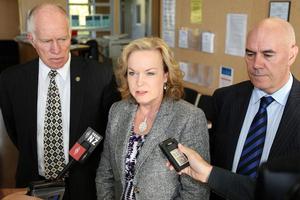 Department of Corrections bosses say staff safety is paramount following criticisms made in the wake of the death of prison officer Jason Palmer.
Palmer, a 33-year-old officer, was fatally assaulted at Spring Hill Prison, 65km south of Auckland around 1pm yesterday.
An inmate has been charged with assault and will appear in Hamilton District Court tomorrow. Police expect further charges to be laid.
Mr Palmer had been a prison officer since November last year.
Born in South Carolina, he had lived in New Zealand for the past eight years. He was married with two children aged five and two.
Corrections Minister Judith Collins said it was the saddest day in the department's history as she was unaware of any other prison guards having died on duty.
Department of Corrections chief executive Barry Matthews said it appeared Mr Palmer was punched shortly after he and two other prison guards opened the inmate's cell.
He fell back and hit his head on the floor as the other two guards restrained the prisoner, who was in a segregation area because of concerns about his behaviour.
He was taken to Middlemore Hospital, where the decision was made to turn his life support machine off earlier today.
Mr Matthews said a post mortem examination was yet to be conducted but it appeared it was a combination of the punch and the striking of his head on the floor which caused Mr Palmer's fatal injuries.
Prison guards earlier today expressed their anger as their colleague lay seriously ill as a result of the attack.
The attack prompted calls from the Corrections Association demanding armour and weapons. Association president Beven Hanlon said police dealt with the same people but were much better protected, with equipment including dogs, stab-proof vests and Tasers.
But Mr Matthews said he believed the department took the security of its staff very seriously.
However, there was always a risk given that prisons were full of violent people, he said.
"We've had a staff safety programme to actually improve safety. We've increased the equipment, we've put a lot of effort into training," he said at the prison today.
"But at the end of it there's always been that potential risk that somebody just compulsively attacks an officer.
"There's always the potential risk, of course, because we're dealing with violent people in our prisons."
Mr Matthews said there was nothing to indicate that what the officers did was anything other than proper procedure.
Mr Matthews and Ms Collins said they did not wish to comment on criticisms of the general safety of the staff made today by the Corrections Association while investigations were under way.
Labour law and order spokesperson Clayton Cosgrove today extended his and the Labour Party's condolences to the family and friends of Mr Palmer.
"Corrections officers work with some of New Zealand's most violent criminals ensuring that these people are kept safely away from our communities. They do a necessary and often unpleasant job and they do it well," Mr Cosgrove said.
"In the coming weeks there will be many questions that need to be answered."
Mr Cosgrove said Ms Collins should engage "openly and honestly with the family, the public and corrections organisations to ensure that this incident is fully investigated".
Police and the Department of Corrections are investigating the incident and are reviewing safety procedures.
- NZPA, NEWSTALK ZB