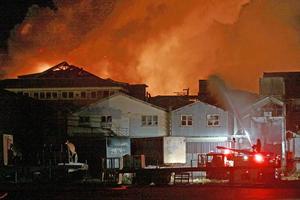 A massive blaze broke out at the old Southdown freezing works in the Auckland suburb of Penrose tonight.
The fire was extensive and involved a range of buildings of up to three floors, Fire Northern Communications manager Jaron Phillips said.
"Thirty fire appliances and more than 120 firefighters are battling the fire which broke out at 8.10pm.
"All available aerial appliances have been called in from around the region, including an aerial appliance and crew who are responding from Hamilton."
Mr Phillips said the fire was visible across east, west and central Auckland.
Firefighters were also carrying out a search of adjoining office blocks to ensure they were empty.
A nearby transport business downwind of the fire had been evacuated, Mr Phillips said.
"Train lines which pass Southdown have been shut down."
The complex was the scene of another major fire on December 21, 2008, when up to 80 firefighters extinguished a blaze at an abandoned cool store building.
- NZPA