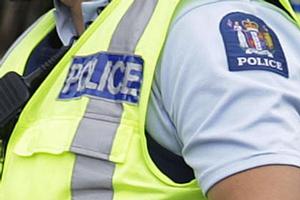 A police officer knocked unconscious at a call-out in Waikato last night has barely any memory of the attack, say police.
Inspector Paul Carpenter said the officer was "in good spirits" despite being rushed to Waikato Hospital and receiving stitches.
However, he had very little recollection of how he sustained his injuries, Mr Carpenter said.
Western Waikato detectives are currently interviewing a man in relation to the overnight attack.
Senior Sergeant Pete Simpson said the latest development was a result of information received from the public.
The incident happened at Ngaruawahia, where there had been a similar attack three weeks ago, when a group of youths leaving a party struck two police officers with bottles, cans and a pool cue.
"The key thing for us now is to get alongside community leaders to address what is happening in Ngaruawahia at this time," Mr Carpenter said.
Police had been buoyed by messages of support from local residents, he said.
The officer injured last night had been called out to a report of disorder at 9pm, Mr Carpenter said.
The officer was then alerted to a man described as "out of control", and saw a man assaulting a woman.
Police said the details of what happened next were unclear, but the officer had got out of his police car and was struck down, hitting his head on the kerb as he fell.
A bystander used his police radio to call for help and officers arrived to find their colleague bleeding and unconscious.
He was taken by ambulance to Waikato Hospital and received stitches before being released to recuperate at home.
Mr Carpenter said the officer had been waiting for a dog handler to arrive as back up while two other officers attended a nearby domestic incident.
It had been a "cowardly attack", he said.
The scene of the attack, on Newton St, has been cordoned off and an investigation is under way.
"The focus for our inquiry team working on the case is to confirm the identity of the man we believe responsible for this attack. To that end we're asking anyone present during the incident, who has not already spoken to police, to make contact with us," Mr Carpenter said.
The two recent attacks in Ngaruawahia were not linked, but police were looking at how they could address the trend.
- NZHERALD STAFF