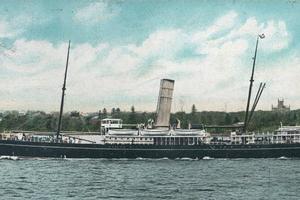 Searchers believe they have found the wreck of an Australian passenger ship which sank north of New Zealand in 1918 after hitting a German mine.
The Wimmera sank on June 26 when a mine laid by the German raider Wolf blew off its stern north of Cape Reinga and near the Three Kings.
Twenty-six people, including two children, out of 151 passengers and crew lost their lives.
Many of the passengers were in cabins in the stern and may not have had a chance to get off the ship.
Their bodies were never recovered and the ship was considered "lost" until Auckland electronics expert Mike Hodson found it on Friday using an advanced underwater sonar system called WASSP developed by his company Electronic Navigation.
The wreck was north of Cape Reinga and in about 90m of water when it was found by Mr Hodson's team on two boats, the Acheron and the Zambhala.
The location of the minefield was known in 1918 and shipping going around the top of New Zealand to Australia was told to take a course outside the Three Kings.
However, Mr Hodson, and Keith Gordon, who took pictures of the wreck on his remote underwater vehicle, said the location of the wreck raised serious questions about the finding of the inquiry that blamed Wimmera skipper Captain Herbert Kell for the sinking.
It was told shipping notices to skippers advised that mines were "not a menace to navigation" but the inquiry blamed Captain Kell, saying he ignored instructions to take a northerly course to avoid the minefield.
Captain Kell went down with the ship after making sure as many passengers and crew as possible were in lifeboats.
Mr Gordon said he was convinced it was the Wimmera.
"It is the only wreck that is there," he said. "It is a historical wreck in many ways. A lot of people don't realise the Germans came down here and laid mines."
Mr Gordon said finding the ship led to great excitement among those on the two search boats. The wreck was likely to be dived on in the near future.
Mines laid by the Wolf were also thought to have sunk another Australian ship, the 2990-ton steamer Port Kembla, off Cape Farewell on the northern tip of the South Island. It sank on September 18, 1917, 11 nautical miles off Cape Farewell.
- NZPA