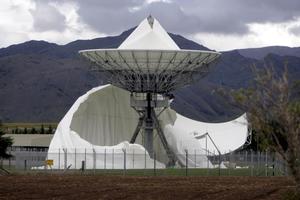 The decision to acquit the Waihopai saboteurs surprised Prime Minister John Key and he is not ruling out a law change.
Teacher Adrian Leason, 45, Dominican friar Peter Murnane, 69, and farmer Sam Land, 26 - were acquitted last week on charges of burglary and wilful damage at the Government Communications Security Bureau (GCSB) base at Waihopai, in Marlborough.
After cutting through alarmed, electric fences without setting off any audible alarms or getting electrocuted, the men reached one of two inflatable domes covering satellite dishes, placed their hands on the plastic skin and said "we disarm you in the name of Jesus Christ", before slashing it with sickles.
The three said they were saving lives in Iraq by disrupting satellite transmissions and were acting for the greater good. A jury in Wellington District Court found them not guilty.
Mr Key told Breakfast on TVNZ he did not want to jeopardise any appeal that Solicitor-General David Collins QC might launch so would be cautious in his remarks.
"It would be foolish of me to wade into that because I don't want to prejudice that case. I think I can say I was surprised by the decision, that would be one way of putting it."
Mr Key said Justice Minister Simon Power may seek advice on legal issues raised about the defence used and whether it should be used.
"If that ruling was to stand does that set a precedent and if so does the law need to change in New Zealand like we changed the law around provocation?"
Last week experts said only judicial decisions, not those made by juries, were precedent setting but the successful case may make the defence more popular.
Dr Collins last week said that trial judge Stephen Harrop reserved a question of law relating to the "claim of right" defence used by the three.
"The Crown will now consider the judge's ruling and directions and decide if it is appropriate to pursue an appeal."
The question was reserved under Section 380 of the Crimes Act, which provided for a trial judge to reserve questions of law for the Court of Appeal at the request of either the defendant or the prosecutor.
"If the result of the trial is acquittal the accused shall be discharged, subject to being again arrested if the Court of Appeal orders a new trial," the law stated.
- NZPA