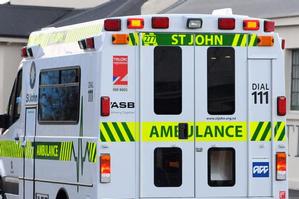 The mother of a baby girl who died after being found face down in a bath was regularly visited by Child Youth and Family which gave her advice on how to provide a "safe and loving home" for her twin daughters.
The Herald has learnt Child Youth and Family had been in contact with 21-year-old mother Amber Lawson and had visited her and her 11-month-old twin daughters, Aimee and Ella Pool, at their West Auckland home several times.
Aimee died on Sunday afternoon, five days after being found face down in the bath.
Her mother, who had left the bathroom briefly, scooped her out of the water and desperately tried to revive her until an ambulance arrived.
It is understood she was on life support in Starship Hospital and died soon after the machines were turned off.
While police continue to investigate the case, Aimee's twin sister Ella - who was in the bath playing with her when the incident happened - has been placed in another home.
Police say it may be some time before a decision is made on whether any charges will be laid.
Child Youth and Family general manager operations John Henderson last night described Aimee's death as a tragedy.
Mr Henderson said community support agencies, including CYF, had been involved with the family, making regular visits and giving "advice and support on how to provide a safe and loving home".
"Close family members were also in regular contact offering support and help. Despite everybody's best efforts, tragedies like this can still occur."
Aimee is due to be farewelled this afternoon at a service in Henderson.
A death notice placed by her family describes her as the "dearly loved daughter of Bryce and Amber. Loved twin sister of Ella Jean and loved little sister of Billie-Rose."
It went on to pay tribute to the little girl saying: "Rest easy beautiful girl. You will always be in our hearts forever and never be forgotten."
Miss Lawson's mother, Judy, told the Herald the death was "just terrible".
The Herald has been unable to contact Miss Lawson, but a picture on her page of the social networking site Bebo page shows two baby girls, wrapped in blankets, lying on a couch side by side.
Police, Water Safety NZ and Plunket have all renewed calls for parents to be careful when bathing their children following Aimee's death.
They say young children should never be left alone in any water, even for only a few minutes.
Eight children under the age of five have drowned in the bath during the past five years.