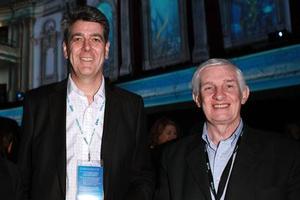 One of Telecom's top executives, chief transformation officer Frank Mount, has resigned as the XT mobile network fiasco claims another scalp.
Mr Mount joins the head of the company that built Telecom's XT network as the second high profile resignation stemming from the network's failure.
Alcatel-Lucent said yesterday that Steve Lowe, a senior technology manager with years of international experience, was being replaced as its New Zealand manager, a role he has held since February 2008.
Telecom chief executive Paul Reynolds this morning accepted Mr Mount's resignation, which would be effective immediately.
"I am pleased to announce that CIO David Havercroft will assume the responsibility for all network and IT operations from today and CFO Russ Houlden will carry interim responsibility for our Shared Services operations and Technology Strategy.
"I want to acknowledge with personal gratitude Frank Mount's enormous contribution to Telecom over the past 18 months. He has worked tirelessly and selflessly for our customers and for Telecom people.
"The successful delivery of Telecom's Crown Undertakings schedule on Operational Separation represents one of the most significant operational and IT programmes in the company's history and is re-shaping the industry. I wish Frank well for the future," he said.
But Dr Reynolds was not as friendly in an irate email to Telecom employees this morning, where he talks of being "extremely disappointed" with the current situation.
"Outages are not acceptable, and I simply won't put up with them," he wrote in the internal email.
Transformation officer
Telecom's own publicity material describes outgoing Mr Mount as the company's "Chief Transformation Officer".
"Frank is responsible for driving the company's transformation for long-term growth and delivering Telecom's new generation of world-class services to our customers in new and innovative ways," the Telecom website states.
"He's well equipped to do this with an impressive track record in senior leadership roles at some of the world's leading telecommunications companies. After starting his career at AT&T, where he stayed for 20 years, Frank has since worked for T-Mobile, Cable & Wireless, US Cable, Primus Communications and Viatel Inc.
The Government today said there was little it could do to help customers frustrated with Telecom's XT network failures.
The network failed again for up to 12 hours last night, its fourth outage since Christmas, sparking calls for Government action as consumers expressed their growing dissatisfaction.
Labour Party Communications spokeswoman Clare Curran today said Communications Minister Steven Joyce should demand answers from Telecom.
"The patience of XT customers has run out and the lack of public confidence in the mobile network requires Steven Joyce to ask some frank questions of Telecom management," Ms Curran said.
"[Mr Joyce] should also encourage Telecom to communicate with and compensate its customers who are understandably fed up."
Mr Joyce said he spoke to Paul Reynolds about the problems yesterday, but because the company was a private one the Government had no power to act or intervene.
"But I've made it clear to Dr Reynolds that the Government is very concerned with the recent spate of outages," said Mr Joyce.
"I am also seeking assurances from the company that arrangements will be urgently made to ensure that emergency 111 calls are answered."
The Dominion-Post website reported calls to 111 to help a student who was attacked at a Christchurch mall failed to get through.
Witnesses said an Asian student was left beaten and bloodied after the assault by four skinhead youths at a bus stop outside the Palms Mall in Shirley about 6.30pm yesterday.
Mr Joyce said he had not been told about the incident when he spoke to Dr Reynolds.
"I am concerned and that is why I asked last night without any knowledge of that situation if Telecom could provide assurances that people could call 111 from their XT phones... Officials are following that up today and will seek further assurances."
Yesterday, clients from Taupo south experienced difficulties with voice services from 4pm. Text messages and data services were also affected, but to a lesser degree.
Telecom said all services had been restored by 4am this morning.
The network would remain "under close observation", the company said.
The XT network, launched by Telecom earlier in the year, in December suffered the first of a series of faults which have prevented users south of Taupo from being able to make or receive calls.
The outages have been blamed on an Alcatel-Lucent radio network controller (RNC), a complex piece of equipment in Christchurch which was overloaded after the failure of another part of the network caused a surge in traffic.
Plans to introduce a second Christchurch RNC to reduce the risk of overloading are on hold after attempts last week to bring it online were not successful.
Telecom spokesman Mark Watts said yesterday that engineers were working through the issues and hoped to have the second RNC fully operational by the middle of next month.
Another RNC is also due to be installed in Auckland by the end of next month to prevent similar overloading issues hitting XT customers in the upper North Island.
- With NZPA and NZHERALD STAFF