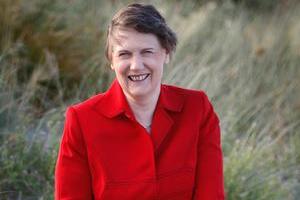 Just over a year after being voted out of office, Helen Clark has been awarded the country's highest honour, membership of the Order of New Zealand, in the New Year Honours announced this morning.
The former prime minister becomes the 17th member of an order that can have no more than 20 living New Zealanders as members at any time.
Yesterday, taking a break from her schedule as administrator of the United Nations Development Programme, she looked every bit a former Labour Party leader, dressed in a red jacket at the Waihi Beach home of her parents, Margaret and George.
She said the award came as a surprise. "I really didn't expect it. But the reality is that, generally, people from previous administrations have been recognised, so I guess the same traditions apply. Perhaps it was the timing of it."
The honour's citation simply says, "For services to New Zealand".
Helen Clark was only the second New Zealand prime minister since the war to serve three full terms of office. She was the first woman to win the office at an election and the first Labour PM to win three elections.
She is the fourth PM to be appointed a member of the Order of NZ, following Jim Bolger in 1997, Mike Moore in 1999 and the late David Lange in 2003.
Back in New Zealand for three weeks and her first summer visit to her parents' home in 10 years, Helen Clark said she had been walking about three hours a day in preparation for a tramp on the Routeburn Track in Central Otago next week.
She had not planned to let her parents in on the secret of her high honour, but the news got out.
"It is a fantastic surprise," said mother Margaret, a retired teacher. "But I do think it is for all the hard work she did over all those years. She was always thorough, always did her homework and really did give it her best shot all the time."
Father George, 87, a retired farmer originally from Te Pahu near Hamilton, said the honour capped what had been a stellar career for his daughter.
"She has covered two spheres now, one as prime minister and now with the United Nations, so she has had two bites at the cherry. The fact she's got a job with the UN is a credit to all New Zealand so, yes, we are immensely proud. It's good for New Zealand."
Helen Clark - who said she wasn't really missing NZ - said her new life in New York ("when I'm actually there") and her role with the UN were stimulating and exciting.
A glance at the UN website reveals that in the past two months she has been to Copenhagen - for the climate summit - Japan, China and Kenya.
"The big difference to what I was doing before here was concentrating on a much narrower range of issues. When you are prime minister of a small country, the media will ring you about anything from the sublime to the ridiculous.
"But in this position, what I give speeches on are millennium development goals, the impact of the recession on developing countries and climate issues."
Asked what she thought of the climate summit, she said she believed having a large number of leaders present had been important. "I don't think there would have been any outcome without them but when you have that many leaders going, they can't go home with nothing."
Helen Clark headed the Labour-led Government from 1999 until last year. She was in Parliament for more than 27 years.
* Current ordinary members of the Order of New Zealand
Lady June Blundell
Jim Bolger
Helen Clark
Dame Miriam Dell
Ken Douglas
Sir Lloyd Geering
Sir Murray Halberg
Jonathan Hunt
Sir Kenneth Keith
Margaret Mahy
Sir Donald McKinnon
Mike Moore
Dame Kiri Te Kanawa
Whetu Tirikatene-Sullivan
Sir Miles Warren
Dr Clifford Whiting
Cardinal Thomas Williams
- ADDITIONAL REPORTING: NZPA