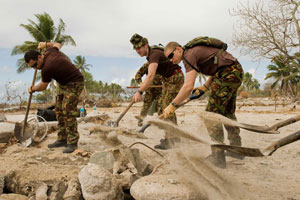 For nzherald.co.nz readers, word of a tsunami off Samoa was the biggest single reason to race to the internet to check for latest updates in 2009.
Live coverage of the events as they unfolded in Samoa, and the threat of the tsunami coming to New Zealand, led to the biggest day's readership in the site's 11-year history.
Following not far behind the tsunami in terms of reader interest was the tragic case of West Auckland toddler Aisling Symes. Her disappearance gripped the nation for several days before her body was found in a drain.
International stories that impacted highly in 2009 were centred on celebrity. The death of Michael Jackson in June and the fallout from Tiger Woods' infidelities led the list.
In sport, the biggest single story was the David Tua and Shane Cameron fight which outranked the All Whites' qualification for the soccer World Cup and the mixed exploits of the All Blacks.
Elsewhere in New Zealand news, two dramatic murder trials which played out in the media captured readers' attention.
David Bain's acquittal in June after his three-month retrial in Christchurch was a defining moment for the year. Through the presence in the courtroom of nzherald.co.nz reporter Edward Gay, readers were kept up to date with minute-by-minute updates from the key days of the trial.
However, there was no acquittal for Clayton Weatherston, who admitted killing Dunedin student Sophie Elliott and unsuccessfully used the provocation defence in an attempt to escape a murder conviction.
Crime always features among the most-read stories in any year and, outside the courtroom, the police standoff with Napier gunman Jan Molenaar played out over several days in July.
News now being an interactive experience, readers were then invited to express their opinions on how well the police handled the siege, with comments appearing on nzherald.co.nz's Your Views section. Many were supportive of how the police dealt with the situation.
In May, readers intently followed the "Bonnie and Clyde" style audacity of the theft of millions of dollars which had been mistakenly deposited by Westpac into a Rotorua couple's bank account. The pair subsequently scarpered to China, and have yet to be found.
Sometimes the quirkiest little stories will swell in magnitude as they are picked up across the country and overseas. One such story was that of Auckland accountant Vicki Walker, who was sacked for sending "confrontational" emails to her work colleagues. The story went viral.
There's also nothing that many people seem to enjoy better than the feeling of "schadenfreude" in seeing the high and mighty fall from grace. The trials and tribulations of once high-flying financiers such as Mark Bryers (Blue Chip), Mark Hotchin (Hanover) and Rod Petricevic (Bridgecorp) engaged many readers of the Business section.
Our top ten stories are rounded out by the polarising bishop of the Destiny Church Brian Tamaki.
The top news topics of the year:
1. Pacific tsunami
2. Aisling Symes case
3. Napier siege
4. David Bain case
5. Clayton Weatherston case
The top 10 individual stories that ranked the highest in readership:
1. Coastal warnings remain after quake tsunami
2. Aisling case: Four drain complaints in five years
3. Latest updates - Pacific tsunami
4. Emails spark woman's sacking
5. Napier siege: Latest updates
6. Police name Napier officer shot dead
7. Missing toddler: Mayor confirms body found
8. P charge: A socialite's fall from grace
9. $10m fugitive drinking beer, enjoying heat
10. Tamaki's 700 'sons' swear oath of loyalty