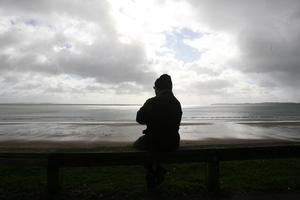 Civil defence director John Hamilton is warning people to continue to stay away from beaches even though he has downgraded a tsunami warning.
The warning followed a quake in Samoa, measuring 8.3 on the Richter scale, which struck at 06.48am New Zealand time. It was centred 200 kilometres from Samoa's capital Apia at a depth of 35 kilometres.
The Pacific Tsunami Warning Centre issued a Pacific-wide tsunami warning after the quake and witnesses estimated the wave that followed was between one and three metres high when it hit Samoa.
Mr Hamilton said while a 40cm wave had reached the East Cape, a 1m wave had been detected at Raoul Island that could hit New Zealand.
The initial message that went out this morning had been downgraded from a threat of tsunami to a potential threat.
"The message to the public is that while there is a potential, you should take caution and not be on the beaches. You could get hit by a wave," Mr Hamilton said from the crisis management centre in the bunker of the Beehive.
Click here for latest updates.
"The challenge you have with a tsunami is that a lot of it is based on assumptions and modelling as opposed to reports bearing in mind that in this case it is about 3000km...of no reports between us and the earthquake site."
He had had no reports of panic but he said he would like to have a closer look at how information going into the crisis management centre was controlled.
"Our challenge is to try and make the messages official and to counter the flurry of messages are transmitted by the media."
He understood there had been no impact on Niue but that Tonga and the Cook Islands felt the earthquake.
Acting Prime Minister Bill English will hold a press conference at 3.30pm with Foreign Minister Murracy McCully and Mr Hamilton.
Civil Defence said an 'all clear' would be issued when it safe to return to coastal areas.
The tsunami prompted people to head to high ground around Whakatane and Opotiki to see the wave.
A helicopter flew along the Bay of Plenty coast warning people to keep away from the beaches.
The estimated time of arrival of the tsunami on the east coast - 9.45am – passed without any significant waves.
Journalist Juliet Rowan says that fire and ambulance services in the Bay of Plenty seaside town of Pukehina moved equipment to a local hilltop marae.
"They've taken all of the emergency vehicles up to the marae just to be ready in case anything serious happens," she said.
Warning sirens were sounded up the coast and the road out of town was busy with packed cars.
"It definitely looks like some people are evacuating," she said.
In Auckland, police were out on Tamaki Drive asking people to stay off the popular beaches in the area.
Ferries were moved away from the terminals to avoid being damaged if the wave hit.
Auckland City Council also advised residents of Great Barrier Island and Waiheke to move to higher ground between 10am and midday.
All the residents at the Seaside Sanctuary resthome at Surfdale on Waiheke were evacuated to the RSA.
North Shore City council said that although the waves were expected to be one metre or less, it was advising people to keep off the beaches.
Rodney District Council advised people to stay off the east coast for the rest of the day and tsunami alert sirens on the Auckland's west coast were activated as a precaution.
Residents of low-lying areas of the Coromandel were also told to move to higher ground.
People at Waihi Beach were advised by the Fire Service and police to leave town. A roadblock was set up to prevent people entering the area.
Northlanders living in low-lying east coast areas were warned to stay off beaches and move to higher ground as a precaution. Areas that may be affected should a tsunami hit include: Doubtless Bay, Rangiputa, Hihi, Te Ngaire, Bay Of Islands - Waitangi, Paihia, Opua, Russell, Bland Bay, Oakura, Matapouri, Whangarei's east coast, Bream Bay area, Mangawhai area.
When the tsunami hit Tolaga Bay witnesses said it measured 90cm – though officials said it was closer to 40cm in height.
Chatham Islands residents were moved away from coastal areas to designated areas of higher ground but Constable Owen Brunel said the time for the tsunami to hit had passed "and there has been no response from the sea at this stage".
New Zealand's Ministry of Civil Defence activated the National Crisis Management Centre in response to the tsunami threat.
Civil Defence Emergency Management (CDEM) Groups, Police, Fire Service, Ministry of Health, Department of Prime Minister and Cabinet and other government agencies, and media were alerted.
The ministry said anyone told to evacuate, where possible, take a radio and cellular phone with them, along with items that are essential for them such as glasses, hearing aid and medicines.
All available New Zealand and international data about the earthquake and sea levels were being monitored and analysed, it said.
Civil Defence Minister John Carter congratulated regional civil defence operations and coastal communities for their organisation and response to the tsunami warning issued this morning.
Mr Carter said as soon as the Wellington-based Civil Defence National Crisis Management Team received alerts, regional civil defence, police, emergency services and other core groups were warned about the possibility of a tsunami.
``Each region acted immediately to put into place the plan for their area, depending on the anticipated severity of the tsunami,' he said.
Latest images from the Geonet service show some earthquake disturbance recorded by sensors on Raoul Island, north of New Zealand, around the time tje earthquake hit Samoa.
Geonet is a collaboration between the Earthquake Commission and GNS Science.
John Beasley said he was in Rarotonga standing at the water's edge in Avarua when a surge of water came in.
"The tide was going out as low tide is at midday, the surge came in and out then a set of 7-9 larger waves came through, 90-120cm high," he said.
"Before this there was a swell of about 20-30cm from the north.
"It was the same as the tide going from low to high every five minutes for about half an hour.
"Boats were advised to leave Avatiu habour and milled around about 100m off the reef."
The Ministry of Foreign Affairs said New Zealanders concerned about family members in Samoa should try to make contact with them in the first instance.
Those with ongoing concerns could call the Ministry of Foreign Affairs and Trade on 04 439 8000, with as many contact details as possible.
There are 76 New Zealanders registered with the Ministry of Foreign Affairs and Trade as being in Samoa.
Click here to donate to the Red Cross' Samoa earthquake/tsunami appeal.
- NEWSTALK ZB, AP, NZPA and NZHERALD STAFF
The Earthquake Commission has this information on what to do in a tsunami:
* Turn on your radio and follow all instructions.
* Take your Getaway Kit with you if you are told to evacuate.
* Leave the area immediately if you are on the beach or near a river when a strong earthquake occurs.
* Go at least one kilometre inland or 35 metres above sea level.
* Don't go to a river or beach to watch the waves come in