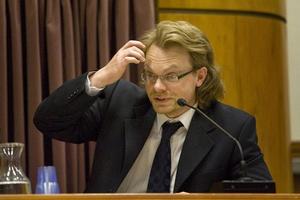 Clayton Weatherston will be appealing his conviction.
The former Otago University tutor was found guilty in July of the murder of Sophie Elliott. He was given a life sentence with a minimum non-parole period of 18 years last month.
A Court of Appeal spokeswoman has confirmed Weatherston's lawyers have today lodged an appeal against the conviction.
Last week his family said Weatherston wouldn't appeal his conviction and was deeply remorseful.
"I believe he felt that all along," Angela Muir told the Herald on Sunday. "He is not a monster and he is not a killer in the true sense of the word. He might have done it but he is not a murderer in the true sense - he was defending himself."
She added: "I am sure he has a lot of feeling that he doesn't want to discuss."
The jury rejected Weatherston's claims that Elliott came at him with a pair of scissors on 9 January, 2008.
They found him guilty of murder for stabbing her 216 times in her own bedroom and mutilating her, while her mother, Lesley Elliott, tried to break down the locked door. Lesley Elliott is now campaigning for victims' rights.
Ms Muir said Weatherston remained in isolation by choice, but eventually prison management would want to shift him in with other inmates.
Other prisoners have reportedly dubbed the 33-year-old "Chucky", after the maniacal knife-wielding doll in the horror movie Child's Play.
But Ms Muir rejected claims that her brother had asked other inmates to call him "Dr" Weatherston.
"I am sure he will make friends because he talks to anybody." Most people were in no position to judge him, she said. "They are not facing this from a personal experience."
- Newstalk ZB, Herald on Sunday