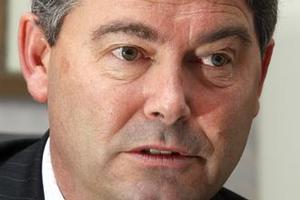 North Shore Mayor Andrew Williams has hit back over revelations of his late-night "obnoxious" texts to John Key, implying the Prime Minister is thin-skinned and that he himself is the victim of "tall poppy syndrome".
Mr Key had described texts from Mr Williams as "aggressive" and "obnoxious". They were sometimes sent as late as 3.30am.
Yesterday, Mr Williams released a statement saying he took issue with Mr Key's description of his texts as "aggressive".
"Politicians need to have thick skins and I certainly get plenty of pointed messages, texts and emails on different subjects but that goes with the territory."
The mayor said he had seen Mr Key several times recently and the Prime Minister had not mentioned any concerns.
"Might have been nice if he said something to my face if he had any issues with me."
Mr Williams said he also texted other Cabinet ministers, including the three North Shore-based MPs - Wayne Mapp (North Shore), Jonathan Coleman (Northcote) and Murray McCully (East Coast Bays).
Dr Mapp said he had received many texts from Mr Williams and agreed they could be aggressive in tone.
"The Prime Minister is entirely accurate. I know that Andrew feels strongly about issues. Let us put it this way, if you receive a text that is largely in capital letters with multiple exclamation marks, you are reasonably confident that the person sending it is feeling particularly aggrieved about the point."
He sometimes replied to Mr Williams, "but not in the same style, I hasten to add".
"Invariably there are some substantive points he is trying to make, although he might put it in a colourful manner. So I sometimes send a message back or ring him."
While Dr Mapp did not recall what times the messages had arrived, he had noticed some at unusual hours.
One of Mr Williams' opponents is Cam Slater, known as the blogger Whaleoil, who yesterday posted recordings of messages Mr Williams allegedly left on the answerphone of former North Shore Mayor George Wood.
In those, Mr Williams asks Mr Wood to call him, saying he has had two years of listening to Mr Wood's "diatribes" and reading his letters to the editor and "would like to have it out with you in full".
In other messages, he tells Mr Wood to "get on with being former mayor" and says he is an "embarrassment for North Shore City".
"I would have thought now you've got your CNZM [Companion of NZ Order of Merit] you would have a bit more decorum."