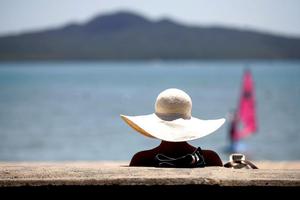 This year is likely to be among the 10 hottest years on record, early figures from the World Meteorological Organisation indicate.
As delegates gathered in Copenhagen for the second day of world climate negotiations, the WMO said average global temperatures from January to October placed 2009 about 0.44C above the long-term average - making it the fifth warmest year since instrumental climate records began in 1850.
The 10 warmest years on record have occurred since 1997, the WMO said.
The decade of the 2000s (2000-2009) was warmer than the 1990s, which were warmer than the 1980s.
Dr Jim Salinger, the Auckland-based president of the WMO's commission for agricultural meteorology, said New Zealand observations were consistent with the world data and showed a continuing increase in New Zealand temperatures.
The WMO said its temperature readings came from land-based stations, ships, buoys and satellites around the world.
The announcement came after the first day of the biggest climate talks in history, where 190 nations are seeking a deal to control global warming.
The United Nation's top climate scientist started the talks by saying greenhouse gas emissions must peak in the next five years if the world is to avoid warming more than 2C.
The head of the Intergovernmental Panel on Climate Change, Rajendra Pachauri, told delegates that the cost of responding to climate change would only rise as time passed.
A study by the UN Environment Programme found pledges by industrial countries and major emerging nations fell just short of what scientists is needed.
Delegates welcomed the ruling of the US Environmental Protection Agency on Monday that greenhouse gases were endangering Americans' health and must be regulated.
It means the EPA can regulate gases without legislation from the Senate, where a bill to cut US emissions by 2020 is stalled.
Officials in working groups now have six days to sketch the terms of a pact before ministers' begin negotiations on December 16.
The ministers will have two days to make progress on unresolved issues before world leaders try to reach a deal on December 17.
Danish Prime Minister Lars Lokke Rasmussen told delegates the world could not afford to miss the opportunity of having 110 world leaders, including US President Barack Obama, in Copenhagen to agree on a pact to replace the Kyoto Protocol, which runs until 2012.
"A deal is within our reach," he said.
The conference opened with emotional appeals for those endangered by rising seas and other damage from climate change.
Fijian climate campaigner Leah Wickham sobbed as she called for action to save her homeland from rising sea levels.
The Ministry of Foreign Affairs and Trade is warning New Zealanders travelling to the conference to beware of protests, and police numbers in the Danish city have been increased. additional reporting AP, Reuters