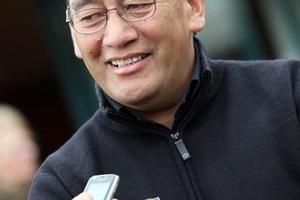 An apology from Maori Party MP Hone Harawira over the inflammatory words he used in an email and his visit to Paris would be hypocritical,
former Labour MP Dover Samuels has said.
Prime Minister John Key and Race Relations Commissioner Joris de Bres today told morning radio and TV shows they believed Mr Harawira should apologise.
The Maori Party is also expected to ask its MP to apologise. Mr Harawira is also unlikely to be given any more official international travel assignments by his party this parliamentary term.
But Dover Samuels - who previously held Mr Harawira's Te Tai Tokerau seat - said the party should instead elect Mr Harawira leader.
"Any apology from Hone would be absolute hypocrisy, he's advocating what he really believes in, he's done that for many, many years before going into Parliament," Mr Samuels told Radio New Zealand.
"Any apology that he would make would be artificial, superficial and he actually doesn't believe it."
Mr Harawira "absolutely" believed in what he said about white people, Mr Samuels said.
"A lot of the people that are sitting with him in the Parliament believe the same thing."
He said the Maori Party had separatist policies and should elect Mr Harawira leader and be honest about their views.
"At least...he's got up and had the guts to actually say what he feels inside."
John Key this morning said he thought an apology was needed.
"I definitely think he owes a bit of an apology," he told TVNZ.
"It's for the Maori Party leadership to sort that out, and I have got to say they are doing their best to try and deal with that situation."
On the broadcaster's Q+A programme yesterday Mr Key said that Mr Harawira's email comments were offensive, and he believed there was "a tinge" of racism in them.
He said Mr Harawira had always been a "shock-jock MP".
"He says things which are sometimes completely outrageous. People generally speaking don't mind that, except when they sort of cross the line, and this one - it got over the line."
Race Relations Commissioner Joris de Bres has ruled out investigating the email, saying Mr Harawira was exercising his freedom of opinion.
But this morning Mr de Bres suggested on Radio New Zealand that Mr Harawira deliver a public apology in Parliament.
Maori Party President Whatarangi Winiata also appeared to expect an apology.
"I think he will find a way to apologise to the nation," Professor Winiata said.
"We will help him do that."
Mr Harawira's final fate within his party is expected to be known after senior party figures go to Kaitaia this week to meet his electorate organisation.
But Mr Harawira has told Professor Winiata he wishes to remain with the party. And after meeting him over the weekend, Professor Winiata said there was also no question of the party ejecting him.
"It would be foolish to go that way, and we won't be booting him out."
Professor Winiata said the party was not focusing on punishment. But it is likely to expect Mr Harawira to publicly account for his actions.
Professor Winiata said the MP's "angry response" to an email from Buddy Mikaere questioning the Paris trip was not justified and was contrary to Maori Party principles.
"We acknowledge the severity of this situation - the hurt that has been caused by Mr Harawira's outburst - and we seek to remedy this, relying on the expression of kaupapa tuku iho [inherited values] as a foundation for all that the party does," he said.
In the email, Mr Harawira questioned whether Mr Mikaere was buying into "that white man bullshit" and said "white motherf***ers have been raping our lands and ripping us off for centuries."
Professor Winiata said Mr Harawira's hot-headedness was a recurring problem.
"There isn't any doubt about his intellectual ability, it's just his ability to express ideas well and his energy.
"I don't think punishment is where we should focus. He has so much talent, and we have to shape the politician out of that."
He said the party had asked Mr Harawira to "consider a number of actions which we hope will address the offence that has been caused".
Mr Harawira would not comment yesterday.
It is understood the Maori Party received at least 150 emails complaining about his comments and that co-leader Tariana Turia has responded to each one with an apology
Mrs Turia has criticised Mr Harawira for going sightseeing in Paris. The incident follows one in 2007 when he left an official visit to Melbourne and went to Alice Springs.
He appears now to have ruined his chances for further overseas travel on behalf of the party.
The Maori Party leaders are also likely to take into account the work Mr Harawira has done since the party entered its support arrangement with National.
Despite Mr Harawira's discomfort with the arrangement, he has involved himself in it, including holding hui nationwide on the Maori flag and the Foreshore and Seabed Act.
- Claire Trevett and NZPA