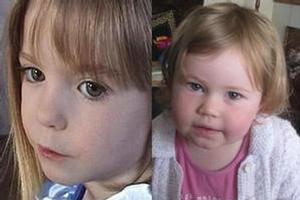 The parents of missing British girl Madeleine McCann have sent a message of support to Aisling Symes' family.
Madeleine was days short of her fourth birthday when she disappeared in May 2007 from a holiday flat in Portugal.
Despite a massive worldwide hunt spearheaded by her parents, Kate and Gerry, she has never been found.
The couple said yesterday that their "thoughts and prayers" were with Aisling and her family.
"We wish Aisling's parents the strength and support they'll be needing at this most painful time and we join them in hoping for Aisling's safe and speedy return. We urge anyone who has any information about Aisling to come forward to the local police as soon as possible and end this family's suffering."
The couple's spokesman, Clarence Mitchell, said they had a "special affinity for New Zealand" given their "connections" to the country.
The pair spent time here before they were married. Kate was working in Wellington as a doctor when Gerry followed her to New Zealand in 1996 to woo her.
Gerry, now a heart surgeon, lived in Napier for about a year, and played soccer for Napier City Rovers.
A police spokesman said the Symes were grateful for the McCanns' message but had yet to decide whether to contact them.
There was also support from Denis Cruickshank, grandfather of Amber-Lee Cruickshank, who disappeared from a party at a house near Queenstown in 1992, aged 2. "I feel sorry for these ones going through it now," said Cruickshank. "It's not very nice, I tell you."
Cruickshank said Amber-Lee's disappearance had taken a severe toll on her mother, Nicola, who is in prison on drug offences. "She never gave up hope at all, she's been trying all the time. It's been very, very hard on her, it's been on her mind for 17 years now.
"She'll never get over it. None of us will."
But Cruickshank said the Symes family should take comfort in having some clues to little Aisling's disappearance.
"At least they've got something to go on. We didn't know if somebody had picked [Amber-Lee] up, or disposed of her, or still had her alive."
Nine New Zealand children have disappeared and never been found in the past 60 years.
Two were lost at sea presumed drowned, and two siblings were lost, with their parents, when a plane disappeared over the South Island.