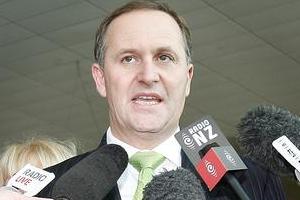 Prime Minister John Key says he is well aware of the danger New Zealand's Special Air Service (SAS) troops face in Afghanistan and sending them there again wasn't an easy decision.
Mr Key announced today 71 of the elite troops had arrived in Afghanistan. New Zealand would provide three rotations of SAS troops during the next 18 months.
"I recognise this is a dangerous environment," Mr Key said at his post-cabinet press conference today.
"The Italians lost six people last week, that is the very real risk our people face, and it wasn't an easy decision to send them."
Mr Key said the SAS, who are part of an international force, were there with the aim of helping stabilise Afghanistan.
"I think the alternative is that we are left with a country where control is ceded to the Taleban, where in all probability more terrorist activities will be planned and schemes will be hatched."
Afghan President Hamid Karzai's government is beleaguered by fraud accusations following the August 20 election, and Mr Key was asked whether he was concerned that the SAS could be seen to be propping it up.
"No. I think New Zealanders will see the deployment in the same way as they see other forces deployed there - this is a historical hotbed of terrorism, a place where we're trying to stabilise the environment so that our forces in Bamyan are, hopefully, in a safer location," he said.
About 140 New Zealand Defence Force personnel are running a provincial reconstruction team in Bamyan province, which the Government intends gradually winding up.
It is the fourth SAS deployment to Afghanistan, the last being in 2005 under the previous Labour government.
Mr Key made the arrival announcement just before leaving for New York, where he is expected to briefly meet United States President Barack Obama.
The US asked for the SAS to be again sent to Afghanistan, and Mr Key today denied his announcement was timed to coincide with his trip.
"We made a commitment...that plan has been in process for six or seven weeks, this was always the time they were due to leave," he said.
The SAS operations would be confined to Afghanistan and they would not be in neighbouring Pakistan.
Mr Key first announced the decision last month, when Labour opposed it.
Labour leader Phil Goff said today that was still his party's position.
"We feel the provincial reconstruction team is both a more effective contribution in Afghanistan and is a lower risk to the individuals concerned."
Mr Goff said there were big question marks around the legitimacy of the Karzai administration and the legitimacy of the election.
"I think a growing number of people in New Zealand and elsewhere in the world are concerned that we would be sending our people to die for a regime that we don't believe is an effective governor of Afghanistan."
Green Party foreign affairs and defence spokesman Keith Locke said the election had been "obviously fraudulent" and questioned why the SAS should be risking their lives to support it.
"The American-led war is destabilising the country and causing many civilian casualties," he said.
"It's crazy to send the SAS just as Western public opinion is turning against the war and most commentators describe it as unwinnable."
- NZPA