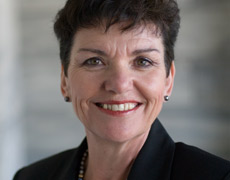 Education Minister Anne Tolley says there is no more money to fund extra places in polytechnics during the recession.
Between 6000 and 8000 students would be turned away because of the Government cap on places in the following year, Institutes of Technology and Polytechnics (ITPs) New Zealand executive director Dave Guerin told Radio New Zealand this morning.
"We will have institutions closing their doors in the second semester," he said.
Ms Tolley said the government did want people to be in training rather than on welfare, but resources were limited.
Raising the cap meant more places had to be funded, but there would also be added costs in student loans and allowances.
Polytechnic and institute predictions were not always accurate, she said.
Mr Guerin said rolls showed the increasing figures which were a fact.
Ms Tolley said institutes needed to talk to the Tertiary Education Commission once caps were being reached.
They should prioritise courses focusing on those that met labour market demands, she said.
"The institutions themselves have to look very carefully at the courses they are offering and make sure they are prioritising courses which are targeting some of those people who have been made redundant, some of those people who do not have the skills, and providing courses that are responding to the labour market."
Mr Guerin said that was already done and courses such as nursing and engineering were under pressure.
He said his organisation had accepted cuts to adult education funding because it understood that times were tough, but people would be missing out on training that would lead to fulltime employment if caps remained.
Ms Tolley said there was little to be done.
"There is no more money, and so that means we all have to prioritise and that means some people are going to miss out. Yes that's the reality of an economic recession," she said.
She had repeated talked to Finance Minister Bill English about the issue.
- NZPA