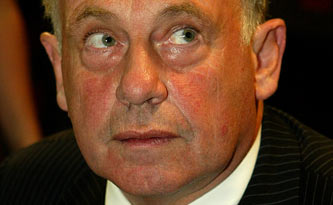 Prime Minister John Key doesn't intend sacking Richard Worth and says the troubled Internal Affairs Minister has dealt with issues involving companies he was connected with.
Mr Key reprimanded Dr Worth after the minister went to India on a private visit and promoted an aviation company in which he held shares and a directorship.
The company has a joint venture arrangement with an Invercargill-based academy which wants to train Indian pilots.
Dr Worth was carpeted for breaking the rules about potential conflict of interest, and Labour demanded his resignation.
Mr Key resisted that, but since then it has been reported that a company Dr Worth held shares in had links with another company which was investigated by the Serious Fraud Office.
Labour MP Pete Hodgson raised the issue in Parliament last Thursday when he asked Dr Worth about shareholdings in the Indian financial services company WSD Global Markets Ltd.
WSD Global board chairman and former MP Matt Robson told NZPA the case against the company to which Mr Hodgson was referring had been dropped.
That company - WSBC - had a common shareholder with WSD Global.
Mr Robson said WSBC was initially accused of "lax regulatory activities" but was later given a clean bill of health in an independent report.
Mr Key said today he had spoken to Dr Worth on Saturday.
"I believe he does understand my expectations of him...and I am assured by him that he is meeting those expectations," Mr Key said.
Questioned about the SFO inquiry, Mr Key told reporters: "There's some need for caution around that before jumping to conclusions."
He said he had not known about it before it was raised in Parliament, but Dr Worth had sought Cabinet Office advice about all his business interests when he was appointed a minister.
"He dealt with that issue...he was told he could continue to hold some of those interests and exit others and he did so," Mr Key said.
"The issue of that company was raised with the Cabinet Office pre-Christmas and he resigned in January."
Asked whether he still had confidence in Dr Worth, Mr Key said he did.
"If I didn't I wouldn't retain him."
- NZPA