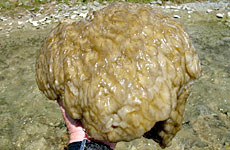 The Waitaki River has been described as a didymo disaster and unfishable for many anglers.
Didymo has spread 60km in a year and anglers with more than 30 years' experience are walking away from the river.
Central South Island Fish and Game officer Graeme Hughes said the didymo was getting worse and was continuing to grow.
"It's smothering everything. There is no place where it is not growing. It's colonised 60km of the river within 12 months.
"Show me any other plant which could do that."
Spin fishing was virtually impossible, he said, and to cast a line without catching didymo would happen once in 100 times.
"That is frustrating. You cast several hundred times a day and nearly every time didymo catches on the line. This stuff is of such strength it takes time to get it off your line."
Mr Hughes said people he knew who had fished the river for more than 30 years had given up and were fishing elsewhere.
"It's a disaster, not only for fish. It looks awful. When the river got in high flow all it did was break up the didymo and send it down the river into deeper water."
He said the didymo hung on to trees overhanging the water.
"The river has lost its attractiveness. It's not a good look."
Fish were still in good size and number but Mr Hughes said didymo was threatening their food supply.
"Didymo carpets the substrate of the river, smothering aquatic invertebrates, the main food source for all fish and several river-dependent bird species."
In the Clutha River, didymo is also blooming.
Fish and Game officer Cliff Halford said that the warmer weather was helping didymo to grow quickly in the Upper Clutha.
Increased flows in the Hawea River had led to didymo being swept down and landing in Lake Dunstan.
"The head of Lake Dunstan is not a pretty sight. The didymo gets caught at the top of the lake and with all the other weed and lagarosiphon it's all a bit of a mess."
He said despite the appearance, good fish were still being caught in the area. Meanwhile the Lindis River is the latest river in Otago to officially have didymo in it.
In the latest release from Biosecurity New Zealand, 33 waterways, all in the South Island, officially have didymo in them.
The latest two to acquire the invasive pest are Ettrick Burn, near Te Anau, and the Lindis, in Central Otago. Didymo was discovered in the mouth of the Ettrick Burn, near the glow worm caves in Lake Te Anau.
Trials for a chelated copper product solution which will limit didymo growth will begin in the Princhester Creek, in western Southland, next month.
Biosecurity New Zealand senior communications adviser Phil Barclay said laboratory trials had so far been positive and a relatively low level of the solution was able to control the didymo.
"It will best be used when a fresher has gone through a river and cleaned out the river," he said.
"But it is not going to cut through a great swathe of blooming bio mass. It will reduce some bio mass for a period of time."
Mr Barclay said it was very much a control tool and was in no way a silver bullet that would totally eradicate didymo from rivers.
Out of control
* 33 South Island waterways are infected with didymo.
* In the Waitaki, the invasive alga has spread over more than 60km of the river in just one year.

- OTAGO DAILY TIMES
By Steve Hepburn