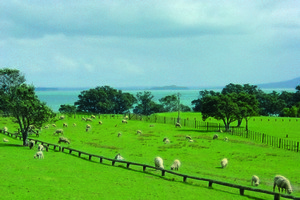 A hidden Auckland treasure, Omana Regional Park has its own beach, farmyard and expansive views over the Hauraki Gulf.
The park is 40 minutes south east of Auckland city, between Beachlands and Maraetai.
It's a free family park with a shell beach offering safe swimming at high tide, picnic areas and barbecue facilities.
There are tame farmyard animals for children to enjoy, including sheep, chickens, pigs and rabbits. In spring children can feed the lambs.
The forest is also home to native birds such as fantails, grey warblers, tui and the native pigeon or kereru. Pukeko, spur winged plover and paradise shelducks roam around the farmed area of the park. There are also South Island pied oystercatchers, pied shags and kingfishers on the foreshore and pohutukawa-fringed cliffs.
Ngai Tai Maori lived at the site for many generations, and built the O Manawatere pa. They and members of other Hauraki tribes stayed on when the land became part of William Fairburn's Maraetai Mission Station, which included a small school for Maori. Omana was part of the mission farm, one of the region's first farms, which was worked from 1837 until 1970, when the Auckland Regional Council purchased it for a regional park.
GETTING THERE
From Auckland central: turn off SH1 at Highbrook Drive and bear left. Continue into Allens Rd and turn left at Te Irirangi Drive. Turn right into Ti Rakau Drive at Botany Town Centre then left into Chapel Rd. Turn right at the next roundabout (1.6km) on to Whitford Rd.
Travel straight through the next two roundabouts (5.6km). Continue through Whitford roundabout and follow the Whitford Maraetai Rd (10km).
The park is on the left just before you enter Maraetai township.