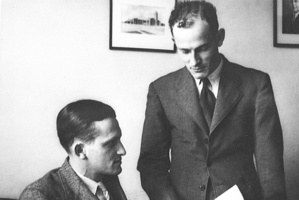 Woolf Fisher and Maurice Paykel went into partnership with their fathers in January of this year to form the company of Fisher & Paykel.
The event passed unnoticed at the time but, with hindsight, they are our New Zealanders of the Year for founding a company that has become a powerhouse of the economy and one of the country's most recognisable brands.
A Herald editorial in 1975 said they had "demonstrated that the well-organised New Zealand factory could produce consumer durables equal to those originating anywhere in the world in terms of price, quality and strength of warranty".
Fisher & Paykel now operates in 50 countries and has factories in five: the US, Mexico, Italy and Thailand as well as New Zealand.
Originally the partnership was set up to import fridges but when import controls were imposed in 1938 it expanded into manufacturing.
The company proved to be adaptable and durable, developing innovative methods of low-volume production and insulation.
The emphasis on technology and research and development continues to the present day with the company - now owned by the Haier group - renowned for, among other things, its DishDrawer dishwasher, advanced washing machines and stove tops.
Further reading:
Biography of Woolf Fisher, Te Ara Encyclopedia of New Zealand