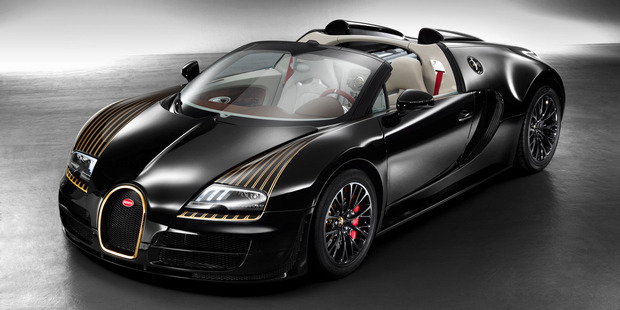 Bugatti has unveiled the fifth in its series of six "Les Legendes de Bugatti" (Bugatti Legends) limited edition runs of the Veyron supercar. This time around Bugatti has revived the legendary Type 18 "Black Bess", which went down in automotive history as one of the first street-legal super sports cars.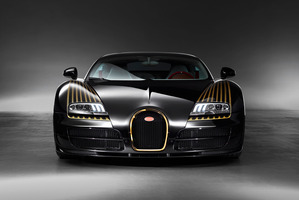 Why does The Good Oil care about this, you may ask? There have been four others that haven't so much as registered an involuntary twitch of interest on these pages, so why does the fifth one matter?
One word: eyelashes. The Black Bess has big, gold, ridiculous eyelashes and The Good Oil simply cannot decide whether this makes it the silliest thing ever, or the best.
I mean, if you are going to drop roughly US$3 million ($3.4 million) on a car, it may as well be utterly silly, I guess.
As well as the big gold eyelashes, the second-to-last edition of the Veyron also features lashings of 24-carat gold coating parts that would otherwise be chrome and an interior upholstered in light beige and brown leather with a red steering wheel, seat belts and other highlights.
The door panels feature hand-painted images of the Type 18 the new car is named after, as well as a Morane Saulnier Type H aeroplane that belonged to famous aviator Roland Garros, who also happened to own a Type 18. An entirely new type of ink and a new impregnation technique had to be developed in order to protect the images from the ravages of time and in no way does it just look like someone took to the doors with a sharpie and left a few smudgy scribbles there. Not at all ...
Buick fail
Buick was once a strong, proud American brand.
It made the world's first-ever concept car _ the magnificent, but unfortunately named Y-Job _ and won the first-ever race held at the Indianapolis Motor Speedway.
But that was a long time ago.
Now Buick just exists to sell Commodores in China and not sell Opels in the US. Oh, and to make magnificent social media blunders.
While most car companies seem to have some vague grasp on their own histories, Buick can't even manage that these days, if their recent activity on Facebook is anything to go by.
In October they posted a press release on Facebook celebrating the 40th anniversary of the Buick Regal a month after the car actually hit its 41st anniversary, but now they have
topped even that mighty brain-fade.
The company recently put a post on Facebook asking ''Ever passed a 1978 Turbo Regal Sport on the road? Answer's no. No one passes the Turbo Regal'', which is actually kind of funny. However, it is even funnier when you realise that the accompanying photograph
(left) was of a 1963 Buick Riviera!
Oh Buick, why do you bother?
Not just with social media or anything, The Good Oil just wants to know why you still bother existing?
We are the world
Flashing your headlights to warn other motorists of police speed traps is now officially
regarded as free speech in Oregon, US. A judge recently ruled that a truck driver who did just that and was given a ticket for it was simply exercising his right to free speech and could not be punished for his ''expressive conduct''. Sometimes we just love America.
A Chinese man learned an important lesson about respecting road workers when he
was forced to abandon his late model Mercedes E-Class after it became stranded in wet cement. The man had ignored the warnings from road workers and driven down a section of road they were working on, rather than taking the long way around. Unfortunately the road was actually wet cement and he only made it 200m before getting stuck. Strangely it took the road workers 14 hours to get his car out of the now-dry cement ...
Gulfstream for the road
Are you massively rich, but afraid of flying? Well one of the perks of being massively rich is that you never have to face up to your fears out of necessity, you can just throw large sums of money at them.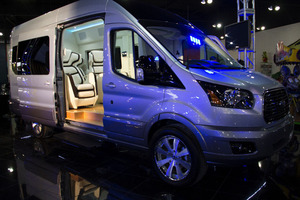 Now Ford is making a play for the ''rich coward'' market by teaming up with customiser Galpin Auto Sports to create a new concept that it is calling a ''private jet on wheels''.
While that sounds exciting, it is instead a Transit van with a hyper-luxury interior that is integrated into a Crestron automation system controlled through a smartphone or tablet.
At the swipe of a finger the interior can be changed to one of four preset configurations: theatre, business, reception or travel.
In theatre mode the four seats face the 52-inch retractable movie screen and recline for optimal cinematic viewing. In business mode a motorised table unfolds and the seats are gathered around it for face-to-face conversation. In reception mode the sliding door
opens four feet wide and the seats are arranged for easy entertaining while parked at an event. The rather more conventional travel mode has all four seats facing forwards, while
passengers can adjust their reclining seats and retractable footrests for ''ultimate comfort and solitude''.
Moab monster
Every year Jeep releases a handful of pretty awesome concepts to show off at the
legendary Easter Jeep Safari in Moab, Utah, and some years they get pretty wild. But not
this year.
This was apparently done on purpose, with Jeep engineers wanting to put more of a focus
on vehicles that could actually be built by Jeep owners using the range of accessories from Mopar and Jeep Performance Parts.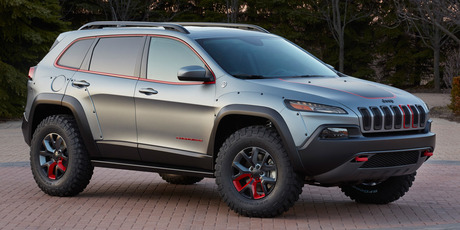 But one of these ''more attainable'' cars stood out to The Good Oil's eyes as being
brain-bleedingly awesome _ the Cherokee Dakar. Now, while we realise the new
Cherokee's looks are polarising, you are clearly a tasteless idiot if you don't find the
Cherokee Dakar fantastic looking.
Based on the Trailhawk version of the Cherokee, the Dakar gets 17-inch polished satin wheels fitted with 33-inch mud tyres and a sexy Silver Steel satin gloss paint job. Off-
road mods include multiple skid plates, rock rails, a two-piece fuel tank and suspension
modifications. Plus, it looks like it wants to kick you in the head just for looking at it. Like any good off-roader should.
Number Crunching
115 YEARS Buick was established in 1899, making it the oldest active US car brand.
3 YEARS In 1902 Buick Auto-Vim had used up all its capital and had only built a single car.
1 YEAR David Dunbar Buick's new company, Buick Manufacturing, ran out of money in 1903.
35 MILLION The number of Buicks built over the years.