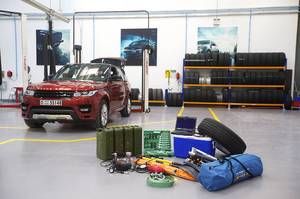 This coming week, Land Rover will use a regular production New Range Rover Sport to attempt to set the fastest recorded time for a land vehicle crossing of the 'Empty Quarter,' one of the harshest and most challenging desert environments on the planet.
In the days running up to the challenge last minute checks are being made, with the challenge vehicle being prepped at the start line in Wadi Adda Wasir, Saudi Arabia. The route will run from there towards the finish line on the border of the United Arab Emirates, a distance of over 1000km further than the length of France.
The driver will be Moi Torrallardona, a 47 year-old Spanish off-road racer with experience of the Dakar Rally, in which he competed for ten successive years with a best finish of 6th overall.
A dangerously arid climate with no reliable water sources and an ever-shifting terrain, the Empty Quarter in the Arabian Peninsula is one of the most treacherous terrains man and machine could face. The driving conditions will be incredibly harsh, with temperatures of over 50 degrees celsius in the day and towering sand dunes.
The New Range Rover Sport will be production-spec, challenging a terrain where usually only specialist sand vehicles are found. Moi will be exercising its breadth of capability to the limit in the process.