Chasing records is a holiday job for Andy Green, writes Jacqui Madelin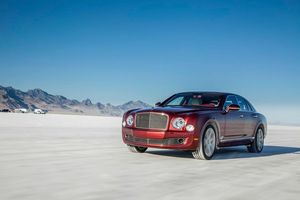 Wing Commander Andy Green seems normal. Yet the British fighter pilot plans to drive a car at 1609km/h (over 1000mph) within two years to lift the land speed record he set in 1997, when he beat the sound barrier and hit 1228km/h in Thrust SSC.
Green's new car, Bloodhound SSC, is powered by a Eurofighter jet aircraft engine up to 480km/h, then a bespoke hybrid rocket. The 6.5-ton machine boasts 100,670kW (equivalent to 180 Formula One cars, or 977 1.8-litre Toyota Corollas). It swallows one ton of oxidiser fuel in 20 seconds, pumped at 1000psi pressure via a 522kW Cosworth F1 engine, and drives faster than a speeding bullet.
"It will do two runs, one each way. It will accelerate at 60km/h per second, and slow at 3G of force and 100km/h per second. It's a reasonably violent experience in driving terms and I have no idea what it will feel like." The room is quiet. "It will be quite exciting."
At 17 metres long and four metres wide, the car is super-sensitive to air flow.
If downforce increases up front, it'll push the wheels into the ground. If it rises out back, the nose will lift, the car will break up, Green's body will be subjected to immense force "and I'll lose all interest in the afternoon's proceedings".
The car must ride perfectly level, with all four wheels earthbound - and ensuring that means solving some "spectacular problems", with speeds and forces never before met at ground level. "It's pretty much the limit of current technology."
Consider the wheels. They'll spin 10,200 times per second.
"The [air] bow wave around the wheel will peak at Mach 3, the shock wave will rip up the surface and that'll affect grip." By how much? "We can't model it. We're going faster than any fighter has, at low level."
Even the track is extreme. The salt flats are too thin and slippery, so a runway 20km long and 1km wide is being cleared, by hand, on a dry South African lake-bed.
Visiting New Zealand as a Bentley Visionary, Green is clear about the challenges he must surmount to beat the others racing for the record with two American, one Australian and the New Zealand Jet Black team in contention.
Money will be the Kiwis' biggest handicap. The UK Government joined private enterprise to help fund Bloodhound, hoping an attack on the record will fire the imaginations of school kids and encourage them into maths and science careers.
And the Bentley connection? The Brit brand took Green to Bonneville Salt Flats to show what can be done with a bog-standard road car. Driven to the salt, and with only the rubber checked for pressure - "I was cynical and didn't think the tyres were up to it" - the Mulsanne clocked an easy 300km/h "while I conducted the world's fastest interview", despite wind turbulence from a photographer's helicopter, "which couldn't keep up".
Tall, slim and with an almost tangibly dynamic aura, Green says breaking the record is "my holiday job", and one he got via a unique set of skills. He's fit, flies fighter jets, is a mathematician and articulate, able to explain the complex processes at his command.
Meantime he's in training, which involves time at the track. "You need basic handling skills. If I get sideways at 1000km/h, I can't panic, I have to correct it. In Thrust, we had two or three degrees of yaw at 1000km/h and I had 90 degrees of steering on. I ended up steering it on the throttle - I wasn't expecting to drive a rally car at 1000km/h."
Sideways at supersonic speed sounds like a bad superhero plot-line. But this is no story and Green, despite appearances, is no superman. Yet in two years he'll go where no man has taken a car before, and the world will be watching.
Hound in hunt
Bloodhound will travel with 16 cameras aboard you can watch from the car as the record is broken. For updates and Bloodhound TV, see www.bloodhoundssc.com
Watch Andy drive a Bentley Mulsanne at Bonneville Salt Flats by searching ''Bentley Visionaries the Future of Speed'' on youtube. (www.youtube.com/watch?v=Vks3RER97bo)