David Linklater finds six unexpected green machines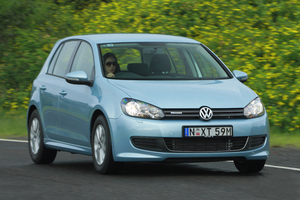 To most of us, a "green" car is one that's very easy on fuel. I'd argue that a car truly gains eco-credentials when its average fuel economy cracks the 5 litres per 100km barrier.
A decade ago, that figure seemed like fantasy for a standard production vehicle. Even the first-generation Toyota Prius consumed 5.6l/100km.
But slowly, some new models crossed that magic lineand we began to think cars could really be green.
They were - and mostly still are - tiny city cars and/or hybrids.
But thanks to modern engine and construction technology, a few cars achieve outstanding fuel efficiency despite their size and weight.
They prove you can have your eco-credentials - and enjoy some status too. Here are six "green" cars that might surprise:
BMW 320d
What'll it do? 5.3 litres per 100km
BMW's new 3-series is sports-car nimble, high-tech with an eight-speed automatic transmission and in 320d form sips diesel at a very low rate. It proves BMW's "EfficientDynamics" engineering is more than marketing hype. It doesn't quite better that 5-litre mark, but it does everything else so brilliantly - it's surely a no-compromise green machine.
HYUNDAI i40 DIESEL
What'll it do? 4.5 litres per 100km
The i40 is arguably the best thing Hyundai is doing at the moment. It's also a generously proportioned medium-sized wagon with plenty of style and gear. The 1.7-litre diesel model returns 5.6 litres per 100km in automatic-transmission form, but the six-speed manual on Blue Drive (its eco-label) does 4.5 litres.
JAGUAR XF
What'll it do? 5.4 litres per 100km
The introduction of a 2.2-litre turbo diesel, eight-speed automatic model to the Jaguar XF range has not only given the marque a tempting $90,000 entry-level model, it also allows its owners to surround themselves in a green glow. Not at the expense of comfort, though: the XF 2.2D comes in luxury mode.
MAZDA6 SKY-D
What'll she do? 4.8 litres per 100km
When the new Mazda6 arrives in March next year, it'll take the model upmarket in terms of size, quality and equipment. But SkyActiv low-friction and weight-saving technologies also mean that the 2.2-litre Sky-D turbo diesel takes fuel economy to extremes.
MERCEDES-BENZ E 250 BLUEEFFICIENCY
What'll she do? 5.1 litres per 100km
The E 250 CDI is a full-size German luxury car with a small-capacity 2.1-litre turbo diesel engine. So no compromise on space and equipment and 500Nm of torque and a seven-speed automatic transmission, yet it consumes less fuel than most superminis.
VW GOLF TDI BMT
What'll she do? 4.2 litres per 100km
BMT, or Blue Motion Technology, used to mean extreme eco-measures: sackcloth seats, concrete tyres, that sort of thing. Those versions still exist in Europe. But other BMT models incorporate a range of simple/subtle measures that still get incredible results. The Golf TDI BMT has a 1.6-litre turbo diesel engine with 77kW/250Nm. It has stop/start, regenerative braking and low-rolling resistance tyres - very little that detracts from the comfort and practicality of your everyday Golf.