World's greenest car ready to roll off assembly line.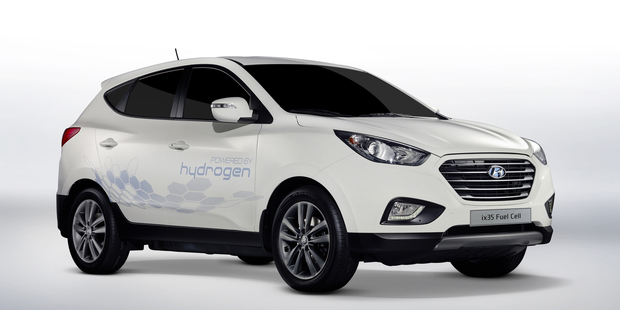 Hyundai will begin production of its hydrogen ix35 fuel cell vehicle by the end of the year, becoming the first global automaker to begin commercial rollout of a zero-emissions vehicle.
In December the Korean firm will begin production of the ix35 Fuel Cell at its Ulsan factory, with a target of building 1000 vehicles by 2015.
Hyundai has already signed contracts with Danish and Swedish cities to lease the ix35 Fuel Cell for council fleets.
Beyond 2015, Hyundai plans limited production of the ix35 Fuel Cell, with a goal of 10,000 units - though there are no plans for the vehicle to be sold in New Zealand.
"The ix35 Fuel Cell is the pinnacle of Hyundai's advanced engineering and our most powerful commitment to be the industry leader in eco-friendly mobility," said Woong Chul Yang, head of Hyundai R&D.
"Zero-emissions cars are no longer a dream.
"Our ix35 Fuel Cell vehicle is here today, and ready for commercial use."
Built with patented technology, Hyundai's ix35 Fuel Cell is powered by hydrogen.
A fuel cell stack converts the hydrogen into electricity, which turns the vehicle's motor.
The only by-product generated is water.
The ix35 Fuel Cell boasts driveability and performance similar to the petrol-engined ix35 models.
It offers rapid refuel with hydrogen taking only a few minutes, and can accelerate from 0 to 100 km/h in 12.5sec, with a top speed of 160 km/h and a range of 588km.
The cost of fuelling the vehicle in Europe is roughly equivalent to NZ$15.59/100km of driving range.
A fully-charged ix35 Fuel Cell takes about 5.6kg of hydrogen, meaning a fill-up costs about $87.
Hyundai says the technology is the result of 14 years and several hundred million dollars of research by hundreds of engineers at its fuel cell R&D centre in Mabuk, Korea.
The car has logged more than 3.2 million km of road testing in Europe, Korea and the US.
Early this year an ix35 Fuel Cell set a record for hydrogen cars by driving from Oslo to Monaco using only existing fuel stations.
Travelling via Denmark, Germany and France, the vehicle covered 2260km in five days.