Quadriplegic wakeboarder feels sensation in lower body.
Kiwi wakeboarding champion Brad Smeele is determined to walk again after a horror training accident that left him quadriplegic, and he's been given a glimmer of hope.
The 27-year-old shattered his C4 vertebra after he landed on his neck while attempting a double back flip in Florida on July 7.
Initially told he would never walk again, Mr Smeele has renewed hope for his future after he started to feel sensation in his lower body this week.
"I was told I wouldn't get those sensations back," he told the Herald in his first interview since the accident. "People with complete spinal injuries don't get goosebumps ... but I've been getting goosebumps.
"Things are looking better than the first prognosis."
Read more:
• Hurt Kiwi breathing on his own
• Quadriplegic wakeboarder able to talk
Speaking from his bed at a US rehabilitation facility, the Auckland man told the Herald he remembered the exact moment he knew things were about to go terribly wrong.
"I was going for a double back flip, but I tried to back out and tried to do a single flip. But I was already committed too much. I hesitated, and a split second after that I realised it was a bad idea," he said.
"I remember coming down and hitting the water's surface. The next thing I remember I was being dragged to shore ... coming around and just knowing that it was not good."
He was rushed to hospital and underwent scans and an eight-hour surgery. Soon after, doctors told his family he would be quadriplegic, with a 1 to 2 per cent chance of regaining movement in the top half of his body.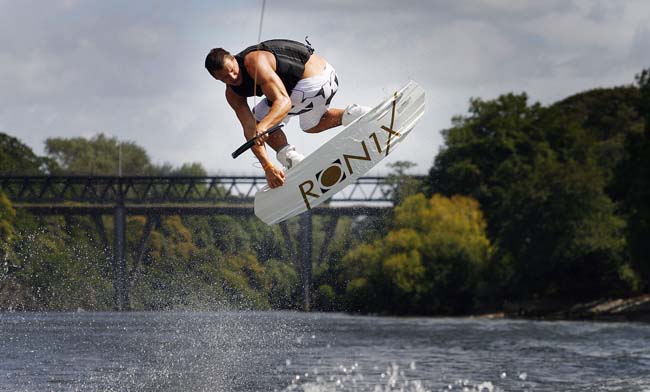 Brad Smeele remembers the exact moment he knew things were going to go wrong while he was attempting a double back flip. Photo / File
"I kind of knew already. The fact that I couldn't move my arms and legs - it wasn't hard for me to realise I was in that state," Mr Smeele said.
The days that followed the diagnosis were grim.
"I went through some pretty dark times. Basically, I wanted to give up," he said.
"When the doctors told me I had a 1-2 per cent chance of regaining full [upper body] movement I was pretty upset."
He lost 18kg - mostly muscle mass - and was on a ventilator to help him breathe. This week the ventilator was removed and he started rehabilitation at the Shepherd Centre in Atlanta, Georgia.
"I know I'm going to get through this, there is no doubt in my mind. But, at the same time I am realistic about how long it's going to take. The way I look at it is my body is broken and I have to repair it. Rehabilitation is a long process, it will be two years before we really get an idea of what my full recovery is going to be.
"There is a chance, there are those miracle stories and I'd love for that to happen to me but at the same time I am trying not to get ahead of myself."
Support since the accident
Mr Smeele wanted to thank his family and friends for their support since the accident. His parents spent six weeks in the US at his bedside after the accident and his sister is heading over soon.
His girlfriend, Talor Reazin, is supporting him and posted a photo of the couple online with an update on his progress.
"It's been a great week in Atlanta ... he is making great progress already in his first couple of weeks," she posted.
"Such an incredible group of doctors, nurses and staff there. Please continue to keep Brad in your thoughts and prayers. He is such an amazing guy and I'm very lucky to have him in my life."
Mr Smeele also thanked everyone who had donated to a fundraising page to help his recovery. As of yesterday, more than $200,000 had been raised to help with his treatment and rehabilitation.
Next trending article: E-cigarettes 'serious threat' to foetuses - WHO