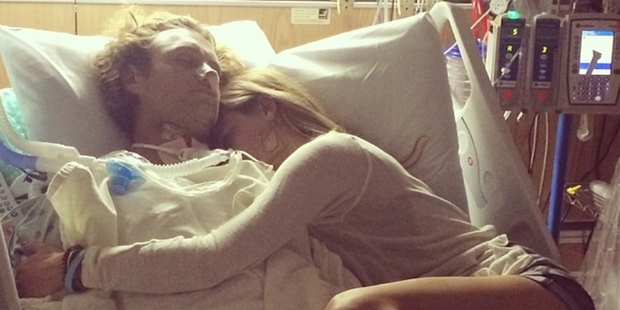 A champion wakeboarder left quadriplegic after a training accident is finally able to speak after doctors inserted a valve into his throat - and has thanked supporters in a video from his hospital bed.
The accident in Florida last month left Kiwi Brad Smeele, 27, with a shattered C4 vertebra after he landed on his neck while attempting a type of double backflip.
After eight hours of surgery, doctors told Mr Smeele's family he would be quadriplegic, with a 1 to 2 per cent chance of regaining movement in the top half of his body.
But in a video posted to YouTube, Mr Smeele thanked his supporters from his hospital bed with a smile on his face.
"Hey guys, I just thought I'd give you an update now that I've got a speaking valve in," he said.
"I haven't been able to talk for the last month."
Mr Smeele said he'd also recently started to be able to swallow, meaning he could now eat and drink.
"I just wanted to send a message out and say thank you so much for all the support, all the kind messages you've been sending through, all the donations and gifts, it's been really amazing."
He said he was blown away with all the support he'd received from around the world. A fundraiser held in Auckland on Saturday raised about $27,000 for the former junior world champion.
Mr Smeele's sister Monique said the event had exceeded her expectations.
The figure raised added to the $174,000 that had been gathered through Givealittle, taking total funds to more than $200,000.
"It was an awesome feeling," Ms Smeele said of the evening that was held at Auckland's Imperial Lane Cafe.
"Everyone was in a really good mood, everyone was just there to celebrate Brad."
She said more than 300 people had turned up. There was a silent auction and the bar had donated 10 per cent of its takings.
Her brother was moved on Friday to Shepherd Institute, a spinal rehabilitation centre in Atlanta, and was spending more time off the ventilator, she said.
He would start a "quite full-on" rehabilitation programme today.