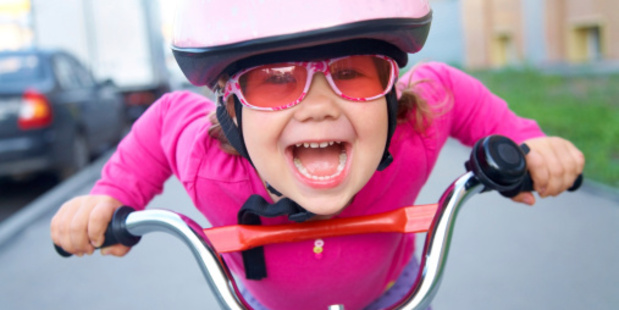 At Raureka School, Hastings, in the 1970s I used to spend playtimes on the jungle gym practising what we called "death drops" - a movement that involved spinning 360-degrees by the knees from an elevated bar and ended with landing on your feet on the concrete below. That's right: concrete.
Back in those days children were tough. There was none of these namby-pamby rubber surfaces and ultra-safe playgrounds they make today. We risked cracking our skulls open every single day and it didn't do us any harm.
In comparison, subsequent generations of children are soft, pampered and mollycoddled. Of course, it's not their fault. Thanks to overprotective parents, increasing regulations and a society with a high degree of aversion to risk, today's children are sometimes labelled as "cotton wool kids".
'Cotton wool culture' stops children playing cited research that found "half of children aged between seven and 12 are not allowed to climb a tree without an adult present".
Another UK article declared that "[l]azy mothers are discouraging children from playing outside because it is easier to look after them inside" (yet made no mention of where the fathers are and whether they're lazy too).
In 2008 it was reported that: "Sport and Recreation New Zealand agrees the 'cotton wooling' of children by worried parents has gone too far ... we are worrying too much about the safety of our children, and not letting them enjoy their childhood."
It's suggested, too, that increased rates of diabetes and obesity may be linked to the fact today's children are more likely to be indoors watching television rather than playing outside. A SPARC spokeswoman said, "[G]one are the days when people would see falling off the jungle-gym at school as a learning experience."
There's surely a sensible balance to be struck between cocooning children in notional bubble-wrap and allowing them to experience a reasonable degree of risk in a safe manner. In hindsight, doing the death drop over concrete was unduly dangerous. Maybe helmets would have been a good idea. My ten-year-old has an impressive line-up of protective headwear which includes a bike helmet, ski helmet and three pony-riding helmets. I wonder if there's such a thing as a jungle-gym helmet.
My daughter returned from school camp earlier this year and reported that every child participated in a series of daring pursuits including: abseiling, climbing a Norfolk Pine to about 15-metres high, rock climbing and "Stack 'Em" - which involved stacking milk crates and standing on the increasingly tall towers. Evidently, helmets and safety harnesses were used in all cases.
Yet I suspect that activities such as these, performed with safety equipment and under adult supervision, aren't sufficiently adventurous for the people who fondly recall those old-fashioned childhoods in which roaming free all day was a given. Children would fish, make rafts, climb trees, pitch tents, swing over rivers on tyres and generally run amok.
TVNZ's Sunday programme ran a piece entitled Raising a generation of cotton wool kids which suggested there was a "revolution underway" in response to the phenomenon of the modern "helicopter parent" who was "protecting to the point of paranoia".
The programme showed preschoolers revelling in rough-and-tumble outdoor adventures which included rolling in mud, playing with sticks, sawing wood and holding dead rodents. A Christchurch principal who had recently introduced the game of bullrush into his school was also interviewed.
A mother confessed that one of the reasons she was risk-averse on behalf of her child was because she dreaded the inconvenience to their lives that a broken bone would impose. Having had a five-year-old with an arm in a cast for six weeks, I could relate to that. I certainly have extended moments of being a cautious parent.
I insist on helmets whenever bikes, skateboards etc are involved, refuse to let her on a trampoline without sides and don't allow children to play with sticks. "Stay away from that boy with the stick. It could poke someone's eye out," I'd tell her loudly at the park when she was a preschooler, hoping the other parent might have the decency to remove the weapon from their child while in a public space. It never happened.
Are children too mollycoddled today? Is it difficult to strike the right balance between children being safe and children having fun?