Impress Christmas Day guests with this menu of decadent dishes.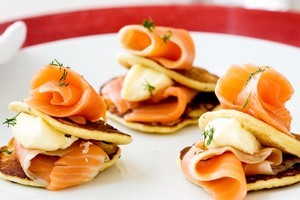 Christmas is a precious time when we step out of our daily routines and relish time with friends and family.
When it comes to creating a feast to be shared we want it to feel special and as though time and thought has been put into it - but we also don't want to be stuck in the kitchen all day.
There is no better time to celebrate cooking and eating, and the offerings should be appropriately decadent.
Here I have created a Christmas dinner that is both delicious and impressive.
Salmon, duck and a rich rum and white chocolate slice are on the menu - dishes which will necessitate a stroll on the beach afterwards or failing that, a small lie down to recuperate.
The pikelet recipe produces delicate, soft and creamy pikelets because sieved potato is folded into the recipe. Cook small spoonfuls in a little butter then top with creme fraiche and slivers of smoked salmon.
The tartness of the creme fraiche and the freshness of the dill cuts through the richness of the salmon beautifully. It's an elegant entrée to start the proceedings.
I have snubbed turkey this year in favour of duck. Even though I do love the flavour of turkey it is often such a palaver to cook a whole one successfully. The duck on the other hand, behaved beautifully, was easy to cook and when paired with oranges, celery, bay leaves and onion, produced tender and flavoursome meat and also looked gorgeous on the platter.
If you are replacing a bird as large as a turkey you'll need two, but this recipe is generous.
Potatoes roasted in duck fat, while sounding a little full-on, produce a glorious result - golden and crispy with the surprisingly subtle flavour of the fat. I've added in-season asparagus which I always associate with Christmas dinner.
No doubt Christmas pudding and/or my favourite - trifle - will feature on many well-laden tables but here I feature a recipe blatantly stolen from a friend. Her truffles are so scrummy and moreish I wish she would make them all year round.
I have thrown in a few extra ingredients and have served them as a slice, perfect to have with coffee later on after recovering from the excesses of the Christmas table.