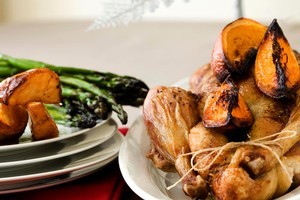 Serves 4
1 large duck - about 2kg
4 cloves garlic
2 sticks of celery, chopped
3 bay leaves
1 onion, chopped
3 oranges
Salt and freshly ground black pepper
Olive oil
1/2 cup sweet white wine or port
1 cup chicken or vegetable stock
Duck fat
6 medium sized agria potatoes
Asparagus
1 Preheat oven to 220C. Wipe the duck inside and out with kitchen paper.
2 Crush the garlic and put inside the duck with the celery, bay leaves, onion and one orange, halved. Season inside and out, then rub the skin with olive oil.
3 Place into a roasting dish and pour over the wine or port. Roast for 30 minutes then baste with the liquids in the dish. Slice and add the oranges.
4 Cook for a further 40 minutes then remove to a platter with the oranges. Cover with foil and let rest.
5 Tip off any remaining fat then add the stock and boil on the stove top while scraping and stirring until reduced. Strain into a suitable gravy boat or jug and check for seasoning.
6 Par-boil the potatoes in salted water. When tender, drain then return to the saucepan, cover and let dry out over a medium heat. Shake to rough them up a bit then put in a roasting dish. Rub with duck fat and season well. Cook for about 1 hour, turning every 15 minutes.
7 Trim the ends off the asparagus and either grill or boil until just tender.
Chef's tip
Duck is high in fat due to its thick skin. The flavour is rich and delicious so smaller portions can be offered compared to turkey.