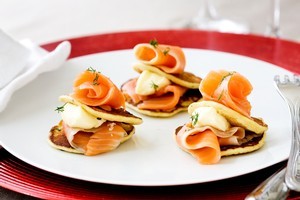 Serves 4
Pikelets
500g agria potatoes
50ml milk
2 1/2 Tbs plain flour
3 eggs
2 egg whites
3 Tbs cream
Salt and freshly ground black pepper
Butter for cooking
Smoked salmon
3 Tbs creme fraiche
Fresh dill
1 To make the pikelets; peel the potatoes and cut into chunks. Boil in salted water until tender then drain and leave in the saucepan with the lid on to steam dry.
2 Pass through a mouli with a fine blade or alternatively press through a sieve. Leave to cool.
3 Whisk together the milk, flour, eggs and whites with the cream and seasoning. Combine with the potato then leave to rest for at least 30 minutes.
4 Heat a fry pan, add a little butter and when bubbling, start cooking the pikelets. When the top of each is nearly set, turn over and continue cooking until golden on both sides.
5 Serve with slivers of salmon, creme fraiche and dill, adding a little more pepper if desired.