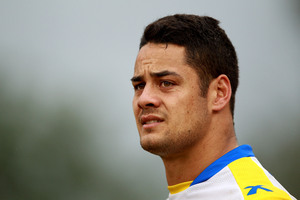 Parramatta great Nathan Hindmarsh says Jarryd Hayne has to learn how to better deal with the pressure that comes with being an NRL skipper.
Hayne's ascendancy to the Eels' captaincy was hailed as a coming of age for the superstar fullback but since Parramatta's opening-round win over the Warriors, he has struggled with the high-profile role.
This was most noticeable in the loss to Wests Tigers on Friday during which the representative custodian engaged in a running battle with the referees.
Former captain Hindmarsh knows only too well the demands that come with being the figurehead at one of league's proudest clubs and says Hayne, who yesterday re-signed until the end of the 2015 season, needs to take a more even-tempered approach.
"Jarryd is under a lot of pressure and some of it is a bit unfair," said Hindmarsh yesterday.
"But sometimes he brings that upon himself and you saw that in the game against the Tigers last week in regards to the way he spoke to the referees. But he is still learning."
Hindmarsh said Hayne needed to lean on senior Eels players for support.
"There are a lot of other experienced guys in the side that are probably sitting under Jarryd's criticism when a lot of them, I think, could also help him out a fair bit as well," Hindmarsh said. "It is a bit unfair but hopefully we can see the Jarryd Hayne of 2009 again. It would be nice. It would be very nice.
Hindmarsh also had a message for those who have started to doubt the Eels under new coach Ricky Stuart.
"Give them time - they will get it together," Hindmarsh said.
- AAP