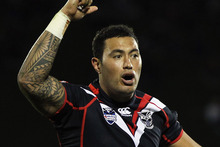 This time last year the Warriors were pretty much right where they are now, ninth on the NRL ladder with a seven-win, eight-loss record.
A run of four straight defeats between byes culminated in Ivan Cleary taking up an offer from Penrith, with the coach's pending departure confirmed on June 29.
When the Warriors returned to the field on July 8, they belted the Gold Coast 22-6 to begin a run of seven wins from their final nine matches that would see them finish sixth. That run would eventually end on the season's final day with a grand final defeat by Manly.
So, is history about to repeat? Can the Warriors capture lightning in a bottle for a second year running?
Those looking for omens might point to the fact their finals push again begins with a date with the Titans, on the Gold Coast tonight. Those of a more pragmatic bent will likely point to the shaky defence and question whether the foundations are really there for sustained success.
Standout forward Feleti Mateo, who last week shredded the Cowboys with a virtuoso performance, insists the building blocks are in place.
"We've still got a lot to improve on but the foundation is there," Mateo said. "Last week we showed a lot of that. We are starting to get more mature with how we are ending our sets. If we can get everyone fit and on the park at the business time of the year I think we will give it a good shake."
But last year the Warriors ground out their most important results. In six of those seven late-season victories they held their opponent to 12 points or fewer. This season they have achieved that feat just once, against the Titans in round four.
"We have done enough work on our defence. We just have to apply it in games now," Mateo said.
Two byes in the space of five rounds hadn't helped the team build consistently but there was still plenty of belief better times lay ahead, Mateo said. If anything, the belief was stronger this season than it was last year.
The four sets strung together to break the Cowboys last week was the most impressive phase of play the team had produced this season.
"That's the sort of thing we need going into semifinal time," Mateo said. "If we can establish that over the next couple of weeks we will be real contenders."
Coach Brian McClennan was equally impressed by the response under pressure as the Cowboys mounted a comeback that threatened to put a dagger through the Warriors' season.
"When it got tight we were able to play with a bit of maturity and close out the game," he said. "That hadn't happened in other games so that does give us a bit of confidence. We know what to do when it gets tight."
The two injury concerns, Kevin Locke and Konrad Hurrell, came through yesterday's final training session well and are expected to play.
By Steve Deane

Email

Steve