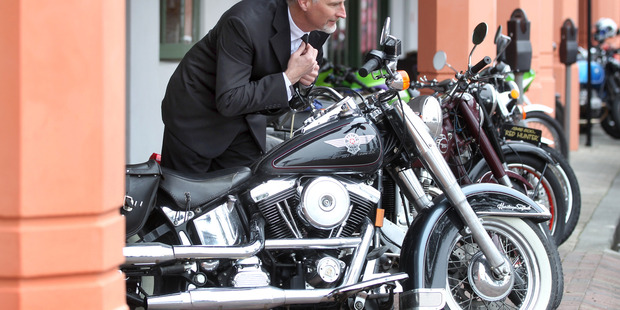 About $15,000 has been raised by a well-dressed group who roared through Napier yesterday, as part of a global motorcyle event.
On September 25 in cities and countries around the world, motorcyclists dress in their finest attire for the annual Distinguished Gentlemans Ride, to raise money for prostate cancer research and suicide prevention programs.
The weather did not dampen the spirits of the 20 riders who set out from the Napier CBD yesterday afternoon for the inagural Napier event.
Organised by Mark Dekker and Jason Lake, the "distinguished" group roared through Napier from the CBD to Taradale, through Ahuriri, before winding around the port and finishing at the Marine Parade soundshell.
All involved, including the one female rider, made a real effort to dress dapper for the ride, Mr Dekker said, and the event had been an "absolute success".
The two had organised the event as male mental health was a big focus for them both.
Meeting through a shared love of motorbikes, the two knew people who suffered from depression, or had bad periods in their lives.
"It's quite difficult for guys to talk about this stuff," Mr Dekker said. "We thought, 'why don't we try and start the Hawke's Bay chapter? We wanted to put ourselves out there to see change."
As of last night, the Hawke's Bay branch had raised almost $15,000 - the third highest amount of the ten rides in New Zealand.
Those involved in the ride had done really well to raise money, Mr Dekker said.
He was ranked as one of the top ten fundraisers internationally, raising over $12,000 alone - partly through the $9300 sale of his BMW R65 LS Cafe Racer 1984.
On the back of the innaugural event's success, Mr Dekker said they were hoping to triple the amount of riders next year.
- Donations are still being accepted. To help, visit gentlemansride.com, or gentlemansride.com/rider/markdekker