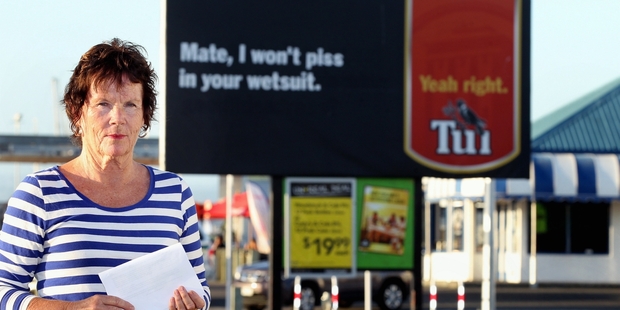 1. Offending sign to stay, published January 31:
A woman whose complaint against using the word "piss" on a Tui billboard in Napier was turned down by the Advertising Standards Authority. Barbara McKelvie, of Eskdale, was one of two people who complained about the beer billboard which was last night still in place across the road from Pandora Pond. She was asked not to make her complaint public before February 2. She decided enough was enough when she saw the Pandora billboard, which reads: "Mate, I won't piss in your wetsuit. Yeah, right."
2. Basketball: Filipinos will be tall order for Hawks, published July 12:
Sports editor Anendra Singh's basketball story about the Philippines national basketball men's team in Hawke's Bay gathered plenty of views. "Height and size has always been an issue for us so we tend to make up for that with speed and skills," said team co-ordinator David E Perez.
The squad faced the HBS Bank Hawks at the Hastings Sports Centre and were in the country for a six-match series which ended in Auckland.
3. Beloved monsignor dies holding Mass, published April 30:
Monsignor Timothy Hannigan, a strong, spiritual, friendly and approachable part of the region's Catholic fraternity and wider communities across Napier and the rest of the country, died on a Sunday holding mass at St Patrick's Church. He died in the country he once said he loved so much that "God willing, it's where I'll be buried".
4. Close encounter as sharks circle lensmen, published February 13:
Two underwater photographers were treated to a Hawke's Bay marine showcase last summer when dozens of blue sharks - some up to 2.5m long - surrounded them in the water. Reporter Morgan Tait's story about Napier man Quentin Bennett, one of the country's longest serving underwater photographers, and former Bay man and New Zealand Herald photographer Richard Robinson, was a huge hit online. The two were about 20 nautical miles north of Napier when they encountered the sharks. Marine scientist and renowned shark expert Clinton Duffy said blue sharks in Hawke's Bay can grow up to 3.3m and weigh about 110kg.
5. Bay's biggest beach day, published January 14:
Reporter Amy Shanks wrote that the 2013 Waimarama Beach Day was a combination of beauty and brains which impressed the judges and led to southern girl Zarae Davis being crowned Miss Waimarama. The 19-year-old had been staying in Hawke's Bay with friends before returning to Victoria University in Wellington where she studied Bio Medical Science.
6. Boy run over by tractor-mower, published October 9:
The heartbreaking story recently of a 4-year-old boy killed when he was run over by a council tractor-mower at Hastings was widely viewed online. The "bubbly" boy was believed to be playing near the tractor in the Camberley Park, when he was hit and "sucked under" the mower in the late afternoon. Police said the boy was believed to have been at the park with older cousins when he was hit by the tractor towing a rotary gang mower.
7. Miss Waimarama ready to heat up beach, published January 12:
The 2013 Waimarama Beach Day made a return - this time, however, it was a preview of Miss Waimarama contestant Courtney-Lee Barrett who, as reporter Amy Shanks wrote, was "a pretty blonde farmhand whose abilities on the land would put most men to shame".
8. Gang-pad raid, published July 26.
A dramatic daytime police raid attracted plenty of attention and discussion online. The raid uncovered drugs and firearms at the Outlaws Motorcycle Club headquarters in Ahuriri, Napier. When police executed the search warrant at about 11am, a witness described to Hawke's Bay Today how he watched armed officers scale the fence of the compound on ladders with their automatic guns drawn. "At the back of the section I just saw an aluminium ladder get slammed up against the fence and one AOS officer with his foot against the bottom and another went straight up," he said. "He had his rifle pointed directly into the section. All shed doors were open, all container doors were open. The place was being well and truly hunted through."
9. Accused still can't be named, published November 20:
It was big news when it was revealed a man had been charged with the sexual assault of an 87-year-old Hastings woman in her home. The horrific crime sent shockwaves through the community, and when the alleged attacker's name suppression was continued at Hastings District Court, many readers were interested. Lawyer Matthew Phelps at the time asked for a four-week remand for reports to be obtained on the man's mental health. He submitted that the interim name suppression order should continue on the grounds of the man's security and any mental health issues that may be uncovered.
10. Man dies after Te Mata Peak car accident, published January 22:
A member of the public alerted emergency services when they saw a car upside down in the gully near the top of Te Mata Peak Rd just after 10am on January 22. The harrowing crash followed an accident in November the previous year, in which a man survived a 200m plunge in a vehicle on the eastern side of the peak.
11. Cancer victim - our young survivor, published March 1:
Reporter Amy Shanks' heartfelt story on a Hawke's Bay teenager's journey as the youngest person in the country to be diagnosed with melanoma was a popular read. Today, a 12cm scar acts as a constant reminder of the ordeal and 13-year-old Jacob Tait still has to undergo check-ups with a specialist and a mole map every six months. His story of survival inspired him to warn others to be aware of the dangers of skin cancer - no matter how young or old they may be.
12. Flash flood hits town, published November 29: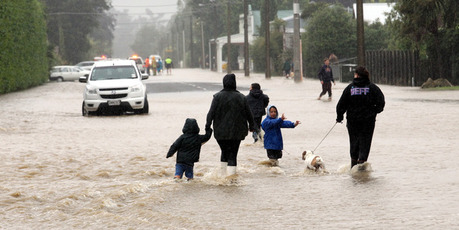 Locals were not the only ones interested in the freak flash flood which hit Ongaonga late this year. The story was well read online. Fortunately, no one was hurt in the flood despite waters surging through the township when a thunderstorm caused the local stream to burst its banks and flow down the main street. No homes were evacuated but the quick-flowing water flooded the local pub and fire station, and police closed roads located off State Highway 50.
13. Wellington earthquake's felt in Bay, published July 22:
The mid-year shakes were not just big news for those further south, as many in the Bay felt the rattles. Napier resident Robin Cowte was in his Kennedy Rd apartment block when the strongest earthquake hit just after 5pm that evening. "My lights were shaking and swaying all over the place and my alarm on the wall started rattling." he said.
14. Review: Mission Concert 2013 rocks Hawke's Bay, published February 24:
Senior reporter Roger Moroney tackled the 2013 Mission Concert with zest. Former Bee Gee Barry Gibb was the headline act. "The show was powered into life by vision - visions of the early days of the Gibb brothers. Then the images were re placed by the words 'Please Stand By' - a bass rumble thundered across the hillside and the crowd stood and began to raise their voices, and glasses, to the arrival of Mr Gibb."
15. Hawke's Bay's biggest beach day, published January 14:
Again, the 2013 Waimarama Beach Day features, this time coverage of the event itself and our online picture gallery.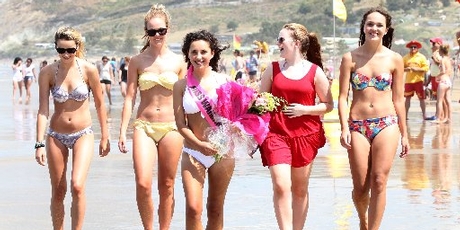 16. Mother has $8 left to feed family, published November 25:
Another heartbreaking story by reporter Amy Shanks featured a woman who struggled to feed her family on sometimes just $8 a week. The woman, who wanted to be known only as Kelly, found it easier to pay things off in small amounts rather than coping with a lump sum. The rest of her money went toward putting petrol in the car and food on her table.
17. Upset man tosses dive bottle, published June 3:
A Napier motorist took road rage to the next level earlier this year, when he was stopped for a routine police vehicle check. Acting Sergeant Shane Rowland said that at about 9.30 one morning, Napier police pulled over a vehicle on Ellison Rd. On hearing his vehicle was about to be impounded, police said the driver took a dive bottle out of his car and threw it through the windscreen of the police vehicle.
18. Sir Paul Holmes investiture live coverage, published January 16:
Governor-General Sir Jerry Mateparae was in the Bay to formally invest the late Sir Paul Holmes as a Knight Companion of the New Zealand Order of Merit (KNZM), at his Poukawa property.
19. Anna Guy's new man from Bay, published February 25:
Earlier this year Hawke's Bay Today reported Anna Guy and her new partner Brent Jameson, formerly of Dannevirke, were happy living together in Auckland, according to his Dannevirke-based mother. His mother Joan Jameson said her son was "getting on really well - they're very happy. The children have settled in very well in Auckland."
20. Woman's body found in Havelock North, published June 8:
Police launched a homicide investigation following the discovery of a 48-year-old woman's body in Havelock North. While the story reported only a crime and police investigation was under way, Raymond Shane Christison later pleaded guilty to the murder of Gail Bower, his ex-partner. Christison was later sentenced to life imprisonment with a minimum non-parole period of 17 years.