A combination of beauty and brains impressed the judges leading to southern girl Zarae Davis being crowned Miss Waimarama.
The 19-year-old was in Hawke's Bay staying with friends before returning to Victoria University in Wellington where she studies Bio Medical Science.
"It's an area that really fascinates me," she said. "It's also something where I can make a difference."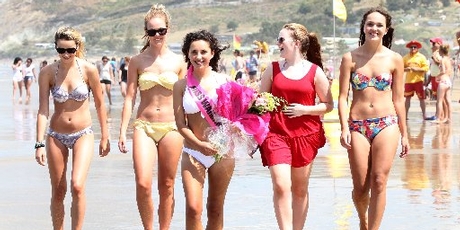 Entering yesterday's contest was a last-minute decision for the natural beauty, who wore no make-up and was only incidentally wearing a new white bikini.
"I wasn't planning on it, but my friends said I should give it a go and I thought, 'it's the only time in my life where I can really do something like this so, why not?"'
Ms Davis won over the crowd with a sweet smile and was quick to answer when asked by the judges what she would do with $1 million.
"I would buy two plane tickets for me and my mum to Costa Rica, where I spent a year on an exchange. I would love for my real mum to meet my host mum."

Ms Davis, who hails from Geraldine in the South Island, said she had to work hard on being confident and appeared overwhelmed as she stepped off the stage to be greeted by a group of excited supporters.
"This is only my second trip to Hawke's Bay but I have lots of friends here. I think it's beautiful and everyone's so friendly."
As winner of the Miss Waimarama title, Ms Davis received a prize pack containing a $50 Beach Culture voucher and bag, flowers, and a six-month gym membership at NFinite Fitness in Napier.
Conditions were perfect for yesterday's competition as 30 bikini-clad beach babes braved the crowd to strut their stuff. Contestants ranged in age from 17 to 21.
More FM breakfast host and Miss Waimarama judge Kevin Wagg said the gorgeous group of girls came from throughout New Zealand.

"We had 30 contestants from as far as Wellington, Taupo and Geraldine - a lot of them were students. The entries started as soon as we opened them at 10am. There were 15 girls waiting to sign up."
A crowd of 6000 gathered on the dunes to enjoy other activities at the family friendly Waimarama Beach Day, including a sandcastle competition, beach dig and surf lifesaving demonstration.