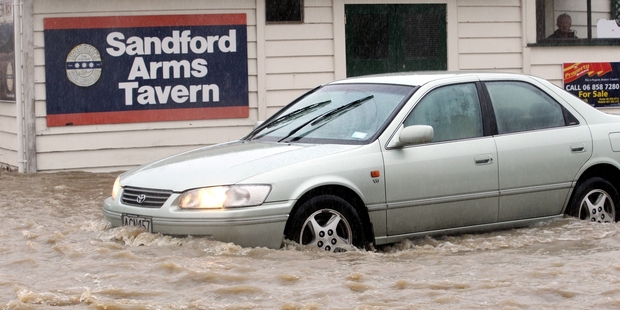 A flash flood surged through Ongaonga yesterday when a thunderstorm caused the local stream to burst its banks and flow down the main street.
Central Hawke's Bay District Council emergency management officer Graham Howse said the 4pm thunderstorm triggered a "flash flood" situation with a torrential downpour.
MetService said thunderstorms were often very localised and lightning from the one that dumped rain on the township had been tracked on radar.
No homes were evacuated but the quick-flowing water flooded the local pub and fire station, and police closed roads located off State Highway 50 as water levels throughout the district rose.
"It's a flash flood situation. There was a really torrential downpour for about 35 minutes or so," Mr Howse said.
Pat Quin of the Sandford Arms Tavern said the nearby Onga Onga Stream was already full when the thunderstorm arrived.
"They have had a lot of rain up in the hills and it was falling big time. So there was enough water to push it over the top," he said.
"Once it came over the stopbank, it came down the main street of Onga and flooded the pub."
With the carpet getting wet, patrons stayed where they were until waters subsided.
Marcus Avery was working at Ongaonga Motors.
"It was very quick. I have been here 10 years and have never seen the stream burst its banks before.
"Another local told me it's the first time since 1976."
He said the top end of the town was completely submerged and his home 1km away was surrounded by water.
Lesley Hogan of the Ongaonga General Store said the street "looked like a river".
"We had a really big thunderstorm that brought up the ground water level a lot. That subsided and the next thing there was this flood water coming straight up the street.
"It was going up people's driveways and down to the paddocks - everywhere.
"All the locals that have been here for years haven't seen it this high ever before.
"The school is just one big lake."
Ongaonga Chief Fire Officer Tom Taylor said there was little damage.
"The only place that really got flooded out was the fire station," he said. "It appears no water went into any other properties. Everyone's fine."
MetService meteorologist Ian Gill said the thunderstorm's lightning had been tracked on radar.
"A thunderstorm has gone trundling across and dumped a very large amount of rain, out of a single cloud effectively," he said.
"With something like a thunderstorm you can get hail on one side of the road and dry on the other. It can be quite localised."
He said the wet weather should have cleared by this morning and a westerly wind should keep clouds at bay until Sunday, when more rain was forecast.
"So you'll get a couple of fine days with northwesterlies. Summer's back for a day or two."