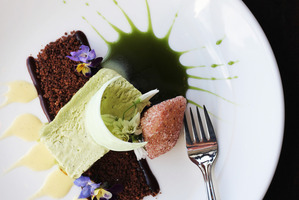 Food: Wild food lover and chef Michael Daly brings us a freshly foraged fennel parfait which he serves up at his new Feilding restaurant, The Strong Room.
For Irish native Michael Daly, foraging is firmly engrained in his DNA. "I have many fond memories of playing around the countryside with my friends as a young boy and picking wild berries, fruit and nuts when we were hungry. It was a normal way of life to me back then. I thought every child in the world did that."
When he first began travelling and working as a chef around the globe, he kept his eye peeled for local delicacies to help inform his culinary skills. Reaching New Zealand, 13 years ago, he was struck by how much it reminded him of his homeland, and his love of foraging resurfaced.
He released his foraging cookbook Find It, Eat It last year. The book uses edible weeds such as dandelion (dandelion potato gnocchi with tomato and Parmesan) as well as foraged fruit (Wild Mock Strawberry and Passion fruit tartlets) and seashore scavenges, garnering Daly a reputation as a wild food chef.
A foraging fanatic, Daly insists that the benefits of wild food harvest extend beyond the wallet. "Foraging is also a very healthy way to live your life. Not only from a nutritional perspective, but from an exercise point of view too. Foraging basically starts in your own back garden and leads out towards the coastline."
Daly's latest venture is The Strong Room restaurant, located in the former BNZ bank building in Feilding. Purchased by two locals, with plans to turn the site into a restaurant, the duo came to Daly and together they transformed the former bank into a restaurant, with Daly at the helm as Head Chef and Duty Manager.
The building stretches over three floors, from the elite dining area situated in the basement's old bank vaults (where huge tables can seat up to 14 people and individual customers' requirements are catered for) stretching through the middle floor, with the main dining area and bar and a top mezze floor which doubles as a function room for up to sixty people.
The menu offers a suite of delicious meals with a focus on locally sourced ingredients (including local honey, olive oil, meat, fruit and veggies and wine) from the Feilding and Manawatu, organic and free-range food. No imported ingredients are used in the restaurant and all food scraps go to a local pig farmer.
The wild greens on the menu (think wild fennel, onion weed, turnip, cleavers, nasturtiums and edible flowers) are foraged for by Daly.
Daly says his motto is to "eat what Mother Earth provides". The restaurant practices this philosophy, providing a menu that rotates with the seasons. "A customer wanted to know why the tomatoes were missing from the salad the other night and I simply told him that tomato seedlings are only getting planted now and should be ready sometime around Christmas."
The Strong Room has also become a food hub for locals who drop off excess lemon and limes by the bagful.
This week, enjoy a wild fennel liquorice parfait, care of The Strong Room.
Wild fennel & liquorice parfait with citrus poached pear
Serves 4
Ingredients:
Liquorice Parfait
300ml cream, semi whipped
4 egg yolks
80g castor sugar
2 tbsp liquid glucose
2 tbsp wild fennel fronds, finely chopped
2 tsp liquorice extract
1 tsp vanilla seed paste
1 pear, cored & skin removed
300ml water
225g castor sugar
Zest of 2 large lemons, plus juice
100g castor sugar
1 tbsp Middle Eastern sumac
Method:
To make the parfait
Simmer the liquid glucose, 60ml cold water and the wild fennel for 5 minutes before removing from the heat and letting stand over-night to infuse.
Whisk the egg yolks and castor sugar in a medium size stainless steel bowl over a water bath of simmering water until the eggs change colour and become thick. Remove from the heat and add in the liquorice extract and fennel extract. Mix well before folding in the vanilla paste and semi whipped cream until combined. Line a 1 litre plastic tube or loaf tin with cling-film before pouring in the mixture. Place in the freezer overnight until fully set.
Meanwhile, bring the sugar, water, lemon zest and juice to the boil and reduce to a simmer. Cut the pear into four quarters and place gently into the simmering liquid. Cook for 10-15 minutes or until the pears are soft to the touch. Remove from the cooking liquid and cool on the side. Place into fridge covered until needed.
To serve- mix the sumac and castor sugar in a small bowl. Place in the pears one at a time to coat in the sugar mix. Remove the parfait from the container and cut into even slices. Serve with the pear and a good drizzle of chocolate syrup. Sprinkle with crushed afghan biscuits if desired.
Like what you see? For weekly Element news sign up to our newsletter.
We're also on facebook and Twitter.