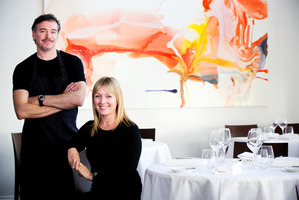 After five years out of the top spot, Auckland institution The French Cafe has regained its position as the city's best restaurant.
The French Cafe was also named as the best fine dining restaurant, the establishment with the best service, and co-owner Simon Wright took home the title of best chef in the Metro Emirates Restaurant of the Year Awards.
Wright said there's no doubt he's stoked with the supreme win, but being top of the fine dining table is the greatest accolade for The French Café.
"We've always been in the mix, we had a great run with three years on the trot, but, to be honest, we've won the fine dining part, that's what's really important," he told the Herald Online.
Judge and Metro magazine editor, Simon Wilson, said the standards of eating in Auckland continue to rise, and while that's great news for foodies, it's not easy for business.
"It's pretty tough for a lot of the restaurants," Wilson said.
"There are just too many in the city now, and that has led to some high-profile closures in the past year, including some places that were barely a year old."
Wilson said this year's awards, announced last night, weren't so much about new places setting the pace, but older establishments lifting their game.
"The French Café hasn't won for five years, but it has comprehensively overhauled everything it does, and has fought its way back to the top," he said.
The Eden Terrace eatery is one of the oldest establishments in the country. Top chef, Wright and his partner, Creghan Molloy Wright (who runs the floor) took control in 1999. They've recently "injected new life" in to popular spot, expanding to make room for a quaint outdoor courtyard for wining and dining.
The French Café's high standards have not slipped, despite missing out on the title of Metro's supreme winner for a while. Wright suggested the judges may have been wowed by new Auckland eateries offering up something a bit different.
"We're always trying to fine tune and perfect what we do and our style," he said.
"You set a standard and you continue that standard, but other places, when they start coming up to your standard and start coming up with something different, it can turn the judges' head.
"I don't feel that we've ever faltered from our standard and style. I think the competition has grown with us, and sometimes new is fresh and exciting."
As a chef, Wright said he has become more relaxed in his approach, presenting VIP guests with something less flashy, but more honest.
"Things seem to flow nicer."
The awards, now in their 11th year, are judged by a panel of 10 food industry folk. The bookings are usually made under false names and all meals are paid for.
Wilson said when it comes to judging he asked himself: "How much do we want to come back?"
"Lots of restaurants are pretty good.
"But when you ask yourself, would it matter if I never have this experience again, it's remarkable how often you realise the restaurant may have been good, but it really hasn't been special."
Metro Emirates Restaurant of the Year Awards 2013 results:
Supreme Winner: The French Café
Runner-up: The Engine Room
Top 10: Cocoro, Depot Eatery & Oyster Bar, Kazuya, O'Connell Street Bistro, Ortolana, Sidart, Te Whau, The Grove
Best Fine Dining: The French Café
Runners-up: Sidart, The Grove
Best Smart Dining: O'Connell Street Bistro
Runner-up: Cocoro
Best Upmarket Bistro: The Engine Room
Runner-up: Te Whau
Best Casual Bistro: Depot Eatery & Oyster Bar
Runner-up: Ortolana
Best Chef: Simon Wright (The French Café)
Highly commended: Ben Bayly (The Grove), Nick Honeyman (The Commons), Michael Meredith (Merediths), Sid Sahrawat (Sidart) , Makoto Tokuyama (Cocoro) Kazuya Yamauchi (Kazuya)
Best Service: The French Café
Runners-up: Soul, Kazuya
Best Rural: Te Whau
Runners-up: Bracu, Casita Miro
Best Asian: Cocoro
Runner-up: Ebisu
Best Italian: Totó
Runner-up: The Refreshment Room
Best Drinks List: Cocoro
Highly commended: Clooney, Molten, Number 5, The French Cafe
Best Short Drink List: Ponsonby Road Bistro
Highly commended: Eight.Two, Depot, Sidart, Sunday Painters
Best New Restaurant: Kazuya
Runner-up: Ortolana
Best Value for Money: Mexico
Highly commended Kazuya
Personality of the Year: Ganesh Raj (The Tasting Shed)
Follow Life & Style Editor Nicky Park on Twitter and Instagram.
- www.nzherald.co.nz