Address:
33 Sale St, Auckland
Ph:
(09) 358 1702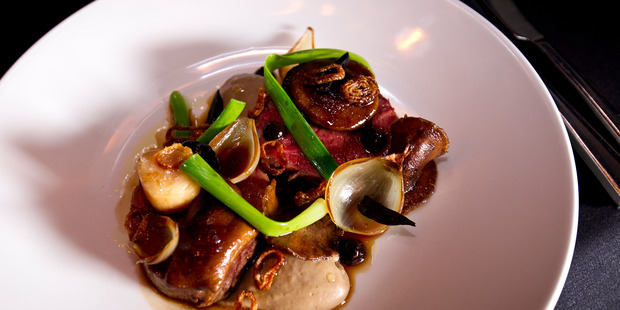 One of the most disappointing things about fine dining is that though restaurants turn cartwheels over their entrees, presenting you with exciting concoctions that thrill from eye to tastebuds, they then revert to dull with their main courses.
There it is, the slab of grain-fed steak, piece of expensive fish or bleeding duck breast, served with a smear or a sauce if you're lucky.
Not so at Clooney. My Wakanui beef fillet arrived sliced into sections and piled with tasty mushrooms and other vegetables, including a generous piece of marrow, all coated with truffle sauce and adorned with waves of foam that tasted piquant without taking over. It looked spectacular, cut like butter and tasted fabulous.
But I'm getting ahead of myself. We arrived at 7.30 and were taken to one of Clooney's round tables. Our companions were already on the banquette, so we took the leather chairs, expertly swivelled by attentive maitre d', Tony Stewart.
Things take a while at Clooney, but that's part of the experience: this is destination dining. Our entrees arrived after 30 minutes and they were well worth waiting for. My crab was a delicate fluff of lightest rice crumbs, crunchy shaved spring onions and morsels of crab. The crayfish entree was similarly melt-in-the-mouth. The summer vegetable option, with its smoked milk curd, pulses, nuts and grains was similarly enticing, as was the crispy pork and scallops.
Although this was definitely our richest choice, it came in a light, lemony sauce which worked wonders on the flavour combination.
Clooney was filling fast, but the clever black bead curtains between tables gave us the feeling that we were in our own private (and relatively quiet) cocoon. Only Brian noticed it was 45 minutes before our main courses arrived.
Again, it was well worth the wait. The John Dory was a masterpiece of flavours. It came with shaved paua that could have been raw it was so fresh, plus the asparagus, lemon and nasturtium mentioned on the menu - and several tastes and foams that weren't. It looked pretty on the plate, too.
There was my beef, and Brian was well-pleased with his pork.
Our desserts were also exciting. The roquefort papillon, honeycomb and madeleines was exquisite, Brian's Valrhona chocolate textures included a creme caramel, and Oliver's licorice with wild sorrel, white chocolate and blackberry came in the form of a creme brulee.
Even I, on my frustrating dairy-free diet, fared well. Our waiter organised a fruit compote, served around an egg of fabulous chocolate ganache. I didn't have the heart to tell him that chocolate contains dairy too.
The meals were generous as well as creative and beautifully presented and cooked, the service was impeccable, the atmosphere lively and sophisticated. Auckland at its show-offy best.
Rating out of 10
Food: 10
Service: 9
Value: 8
Ambience: 9

Our meal: $498.50 for five glasses of wine, four entrees, four mains, two sides and four desserts.
Wine list: Tony Stewart chooses interesting and classy wines from here and the world. And he knows them all. Let him guide you.
Verdict: Clooney gives you a night out to remember, a meal you'll savour and fabulous wine. Save up and go.