Address: 4 The Strand, Takapuna
Phone: (09) 280 1487
Website: mexico.net.nz
Cuisine: Mexican
Rating: 6.5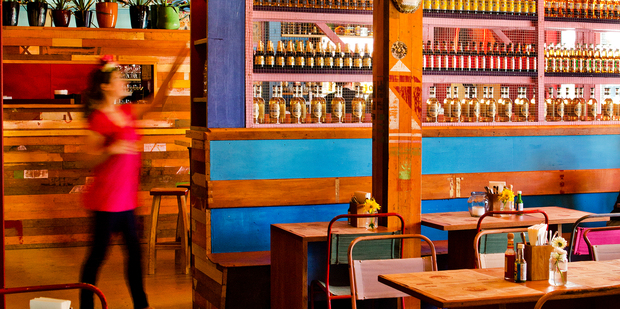 It seems we have an insatiable appetite for Mexican cuisine right now. It's all the rage, here and across the ditch, and diners are re-discovering this cuisine in a whole new, fresh way, embracing modern takes on the classics and variations that would probably make your average Mexican's eyes water. It's rowdy, it's cheeky, it's a cuisine that shouts, not whispers.
Ever since Mexico opened in Britomart at the start of this year, it's been so popular that queuing for a table there has become the norm. Now they've opened a second Mexico, in Takapuna, where it takes up residence in the new McKenzies development. I grabbed a friend, with whom I share a mutual love for this vibrant, colourful cuisine and we made for Takapuna before the queues started piling up there too.
Once again they've outdone themselves with the design of the space. It's scrumptious in its own rustic, colourful, cluttered way with walls adorned with day-of-the-dead paraphernalia, images of the iconic Frida Kahlo and every other cliche Mexican trinket you can think of. It bursts with all the energy and vibrancy of a backyard fiesta in Mexico. The staff, with flowers in their hair and puff-sleeve blouses, reminded us that summer would soon be here, despite the rain and hail that lashed down outside.
We were seated and given the menu, which continues the party by offering more tequilas and margaritas than food, and we ordered up a storm of salsas, soft-shell tacos, carnitas and more. Our food began to arrive and it's then that I felt like a bit of a party pooper. A beetroot, carrot and feta dip was on the money with hints of toasted cumin and wonderfully crisp corn chips but the salsa was disastrous. Under-ripe and tasteless, the tomatoes had been cut into such huge chunks they were impossible to scoop out of the cute jar and, when we did succeed without leaving our corn chip behind, it was devoid of flavour. The same went for the prawn and mussel vinaigrette. Served with a slab of warm corn bread, the dish was flattened by little, if any, acidulate quality. Where was the lime, the promised vinaigrette, anything? The ceviche was tasteless. I asked for extra limes to tart them up but it was impossible. I'm convinced no-one in the kitchen had tasted either of these dishes to check for seasoning.
My hope was momentarily restored with some fried food. The patatas de maiz - piping hot batons of polenta, fried and topped with olive salt - were a welcome burst of flavour. Likewise the fried chicken pieces, showered in chilli-lime salt, had us chirping for joy but at the same time we were sorry that it was these less-than-authentic dishes that were proving to be the highlights.
We moved on to the soft shell tacos and we were back to feeling like the food is the wallflower at this party, as neither the caramel pork carnitas nor adobo fish were anything to rave about.
Throughout the entire service I watched the head chef stand at the pass, presumably checking for quality control before the plates left the kitchen. The only problem with this is that though we may eat with our eyes, we can't taste with them. Had he picked up a spoon and tasted anything, he would have discovered that the party had barely gotten started in the flavour zone.
An orange-scented creme Catalana, served with delicate sugar and cinnamon-dusted pastry fingers, was overly sweet and grainy and the churros, though expertly cooked, were served with cheat's chocolate sauce, made with cocoa I suspect.
As we left we wondered why the food isn't more of the star at Mexico - or if it even really matters? The atmosphere is so filled with fun and boldness and there's enough punch and kick in the design, maybe it's ok to have the food play second fiddle? It's just a shame, as it wouldn't take much to make sure every dish popped with the same brilliance.
From the menu: Beetroot dip $6, Patatas de maiz $6, Soft shell taco $6 each (pork carnitas & adobo fish), Fried chicken $12, Mussel & prawn vinaigrette $14, Ceviche $14, Churros $8, Crema Catalana $8
Drinks: Extensive selection tequila, cerveza, margaritas