Address: 115 Queen St
Phone: (09) 480 9502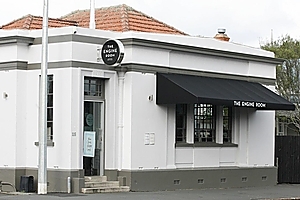 The Engine Room occupies the lovely art deco building across the road from Northcote's Bridgeway Cinema. It is, I surmise, an awkward space to get quite right. It was warm on the cold night that we were there, but the wooden floors made it echoing and uncomfortably noisy.
And - just to get my grumpy bit out of the way - please don't set the table with the salt in the container it was purchased in. I'm sure it's an excellent product, but I don't want to see the packaging, even if it does have a built-in grinder.
And now the good part.
A complimentary taster of green olives stuffed with ricotta, mint and chilli supplied an excellent indication of what was to come. My twice-baked goat's cheese souffle was outstanding. It arrived still bubbling, so that, to save a burnt mouth, it had to be eaten very slowly - just as it deserved. Light, with flavour in every mouthful, it was a superb example of the chef's skill.
The chicken and pork terrine was less successful. Although Bill enjoyed it, and to be fair, it was his choice, I found it a bit sausagey. The pickled cherries that came with it were wonderful, and their acidity cut any fattiness in the terrine.
The chefs at the Engine Room pay more than just lip service to seasonal produce. The menu was liberally scattered with references to celeriac mash, parsnip mash, cavolo nero, beetroot, brussels sprouts and tamarillos.
I ordered the veal schnitzel with potato rosti and coleslaw in the interests of nostalgia. It was the sort of meal - often the only sort - that was available when dining out became possible in New Zealand's provincial cities. This was a very good example of the dish - tender veal with caper butter, a robust rosti, and a very finely cut and well-dressed slaw.
Just as it always should have been but seldom was.
Bill's pork belly with celeriac mash and cavolo nero had him reaching for all the superlatives he could muster. It was good, then. This is high praise indeed in Bill-speak.
There was no argument over dessert. Even though I maintain that I don't have a sweet tooth - and I really believe it - I can't resist the New York cheesecake. We shared one, made, we were told, from a recipe from chef and co-owner Natalia Schamroth's grandmother.
I would have preferred it to have spent a little longer in the oven, but the edges of it were firm enough for me, and the poached tamarillos that accompanied it were tart enough to cut the richness.
The menu at The Engine Room reads simply, but the end products are the result of sheer hard work and a bit of inspiration. A little attention to detail would lift it even higher.
Rating out of 10

Food: 8

Service: 8

Value: 7

Ambience: 7

Our meal: $212 for two entrees, two mains, one dessert, four glasses of wine, two beers and a liqueur.

Wine list: A good selection, with a number of imports. Only one of each variety by the glass.

Verdict: A popular local restaurant, worth making the effort to cross the bridge, though a bit pricy for regular visits.
* This will be Canvas' last review of The Engine Room after the magazine's reasonable request to photograph a meal for it was refused. Owner Natalia Schamroth made the highly unusual demand that, prior to publication, she see and be able to approve this review before she would allow such a photograph. Her demand was rejected. Canvas reviews are the independent opinions of our individual reviewers and are not pre-approved by restaurant owners. They are written for our readers' edification, not as a promotional device for restaurants. Readers may trust that this will continue to be the case.

- Greg Dixon, Canvas editor