Address: Viaduct Harbour, Auckland
Phone: (09) 356 7249
Website: soulbar.co.nz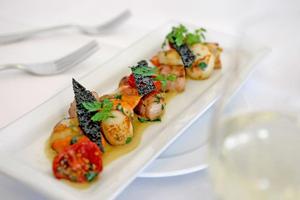 Although we've never witnessed "an incident" among the sometimes well-lubricated patrons of the Viaduct - we prefer to avoid the area or go early - as we did when we went to Soul on a recent Friday.
But, as we learned later, around the time our mains were arriving, just around the corner some clown presented a fake pistol at bar patrons in a misguided marketing stunt for an Xbox game. You can never be safe from fools.
But our evening went by almost without a hitch. More of the "almost" in a minute. We started with a couple of drinks: Megan's lightly spiced cocktail with passionfruit vodka, cranberry juice, pinot noir and bilberry liqueur over ice was an especially refreshing pick-me-up after a long - and last - day in the office. We lingered over the excellent fresh ciabatta with olive oil and pomegranate syrup while contemplating the thorough wine list and the tempting menu mercifully free of pretension in its descriptions.
All of this confirms why Soul is so consistently popular.
Megan said her entree of sea-kissed scallops with smoky bacon and squid ink toast - displayed like a minimalist Japanese design - was the perfect starter. And although my duck leg with crispy skin seemed a little oily at first taste, the peppery chorizo pieces cut through it neatly and the thick spaetzle noodles and soft silverbeet added warmth (and bulk) to an entree which was hearty and generous.
Clearly my appetite was running because I ordered what proved to be an excellent roast beef fillet which came with a braised rib, silverbeet (I love it, but am in the minority I believe) and some superb roast vine tomatoes. I also ordered a side of roasted portobello mushrooms (with a hint of chilli and rosemary) which would have been a meal in itself.
Megan's side salad - rocket and parmesan - was equally enormous, and just as well, because her crab and prawn linguine was so heavy on what seemed like garlic (not mentioned on the menu) that after a couple of mouthfuls, and one for me to confirm her opinion, she had to leave it.
We noted this to the waitress - excellent, incidentally - who said she would pass our comment to the chef. Presumably she did, but while you might expect a replacement or offer of something else, it remained, untouched, on the table - and still on the bill. Unfortunately that took the edge off what had otherwise been an excellent evening in a vibrant, welcoming and understandably busy establishment.
Still, it could have been worse. We could have had a gun waved at us by someone who can't tell the difference between marketing and being a moron.
Rating out of 10
Food: 8
Service: 9
Value: 8
Ambience: 7
Our meal: Bread, two entrees, two mains, two salads, a cocktail and a spirit, four glasses of wine. $235
Wine list: Wide and deep, predominantly local but with selected Australians and more than a simply passable selection by the glass.
Verdict: Location, service, quality but one stumble.