Address: 56 Brown St, Ponsonby
Ph: (09) 360 0927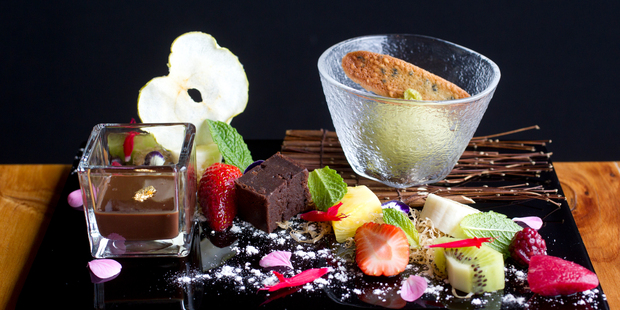 Degustation menus are spreading all over the restaurant landscape and not everyone likes it. Writing in this newspaper, Al Brown, whose views on food demand respect, described it as the Devastation Movement.
One of his criticisms of what he described as "multiple courses of small artful creations" was that few New Zealand chefs who attempt this approach have the skill to pull it off. He also disliked the interruption to the social nature of dining inflicted by elaborate explanations of the food.
Online comments on "tasting menus" raise the issue of what exactly constitutes a course in, say, an eight-course offering and doubt that the elements add up to a satisfying or value for money meal.
If you want to book a table at Cocoro, however, you have no option. They don't accept reservations if you are having their tapas plates.
But the degustation option can be pretty painless. We found Cocoro a particularly stress-free environment with its low level of noise, soothing minimalist decor and service that, apart from stopping to describe each dish, was self-effacing and efficient.
No hard decisions about what to eat, just dishes turning up in a well-timed flow and building cleverly so that early doubts about whether you are going to get enough are banished by the end of the meal.
The first course is a hint of what is to come: New Zealand ingredients treated with Japanese finesse and precision. A single warm oyster arrives, perfectly presented - as are all the courses - bathed in a soy sauce with ginger and garlic, complementing the shellfish.
The next course was a selection of appetisers including crab and blue and yellow fin sashimi, revealed from within a hinged black box and partnered by Cocoro's own wasabi, a far cry from the version in your $2 sushi shop.
This was nearer the approach seen in the documentary Jiro Dreams of Sushi. But the other courses expanded the repertoire beyond the obsessive Jiro. We delighted in the whitebait Chawanmushi, in which the fish fry lurked in one of those delicate Japanese egg custards sitting in ichiban-dashi seaweed stock. Truly delicious.
The agria potato cakes were a pleasing surprise and the angus beef fillet, charcoal-finished and full of flavour, would have satisfied any Kiwi barbecue fan. In all honesty, some of the touches passed me by and I cannot pretend to have detected the Maori herb salt or the scent on the lonely edamame beans.
The treatment of the steamed snapper did not appeal but when you have eight courses some are bound to cater less to one's personal taste than others.
We omitted the optional extra course, farm-raised blue fin tuna finger roll sushi, on the grounds we were quite full and the betsubara dessert just completed the deal. This was green tea and mint icecream, accompanied by a visually attractive display of chocolate cake and fruit and matched with a chocolate dipping sauce fragrantly flavoured with cinnamon and ginger.
I can't vouch for how the tapas customers enjoyed themselves but everyone seemed as content and relaxed as we were after an experience which catered to the subtler side of appetite without neglecting the coarse brute within who just needs feeding.
Rating out of 10
Food: 8
Service: 8
Value: 6
Ambience: 7
Our meal: $236 for two degustation menus and a bottle of wine.
Wine list: A particularly good wine list, with some by the glass, and a range of sake.
Verdict: Cool style, sophistication and casual combined in a classy act.