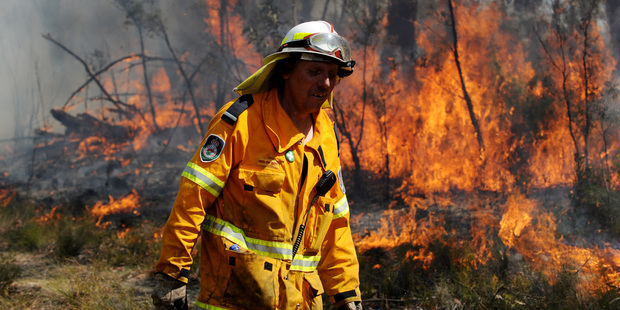 Firefighters are working to link two out-of-control fires burning in the NSW Blue Mountains in an effort to starve them of fuel and prevent a "mega-fire" forming.
Rural Fire Service Commissioner Shane Fitzsimmons says firefighters are backburning at fire grounds at Lithgow and Mt Victoria to try to join the two fire fronts.
He says the convergence is aimed at containing the two blazes and stopping them linking up with a third uncontained fire at Springwood.
"There is work going on at the moment to try and tie in the eastern edge of those fires bringing them together," Mr Fitzsimmons told reporters at RFS headquarters today.
"They will do it on their own but the containment strategies will seek to link those two fires together."
There are 63 fires burning across the state, 13 of them uncontained.
Backburning was about 80 per cent "locked in" around the towns of Bilpin and Berambing in the Blue Mountains, Mr Fitzsimmons said.
"They (firefighters) have had some extraordinary success ... but there's still a way to go," he said.
Higher temperatures and stronger winds were forecast for today and into tomorrow.
"We can expect to see those winds strengthen up to 60 to 90 km/h, which is what we're trying to prepare for and brace for," Mr Fitzsimmons said.
In addition to the fires, there were "large tracts of the state" that remained at risk and under total fire bans.
The RFS said around 1100 firefighters were battling blazes across NSW overnight.
Fire and Rescue NSW has ordered one of the largest mobilisations of fire engines and officers in its history, sending up to 170 tankers and 800 officers to the Blue Mountains.
More than 200 homes have been lost in the bushfires, with the insurance bill hitting $94 million with 855 claims.
Meanwhile, five children, including an 11-year-old boy, have been arrested accused of lighting the blazes that ripped through parts of NSW last week.
CLIMATE CHANGE
The United Nations says the NSW bushfire crisis is "absolutely" linked to climate change and Tony Abbott's Direct Action policy is dangerous.
UN climate chief Christiana Figueres has told CNN the Abbott government will pay a heavy political and economic price for walking away from Labor's commitments on climate change.
"What we need to do is put a price on carbon," she said.
She said Australia, and the world, were already paying heavily in other ways.
"We are really already paying the price of carbon. We are paying the price with wildfires, we are paying the price with droughts.
"What we have seen are just introductions to the doom and gloom that we could be facing."
She said Australia had not walked away from its international commitment on climate change, but was now "struggling" with how to meet those obligations.
There was "absolutely" a link between climate change and the fire crisis playing out in NSW, she said.
"The World Meteorological Organisation has not established the direct link between this wildfire and climate change - yet," she said.
"But what is absolutely clear is that the science is telling us that there are increasing heatwaves in Asia, Europe and Australia ... that they will continue in their intensity and in their frequency."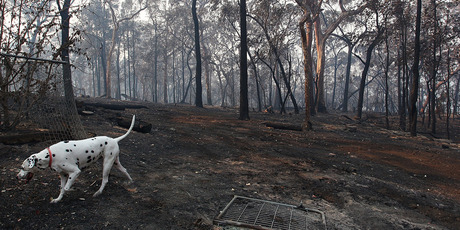 Ms Figueres said the world was closing a window on itself, but there was still time.
"That's not the only scenario. We could - as humankind - we could take vigorous action and we could have a very, very different scenario."
Read more: Fire and climate change - don't expect a smooth ride
- AAP