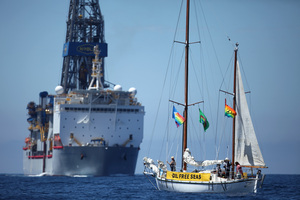 Greenpeace has said the oil drilling ship Noble Bob Douglas and its support vessel breached maritime protocols.
The Oil Free Seas flotilla claimed one of its boats - the Vega - was squeezed between the Noble and the Bailey Tide last night.
Steve Abel of Greenpeace said they attempted to communicate with the support boat.
"One of the most concerning aspects of this was that repeated radio calls to the Bailey Tide, asking what its intentions were, were ignored and not responded to."
Mr Abel said the incident happened at 6.10pm yesterday.
He said they were not aiming for a dangerous situation.
"There's a specific intention to protest in a way that we believe is peaceful and safe, but may not fit within the new law that the Government has passed which bans protest within 500 metres of a vessel."
Mr Abel said they were not trying to orchestrate a confrontation either.
"Some sort of confrontation where the safety of the boats, or the people on the boats, is put at risk? Certainly not."
The Oil Free Seas Flotilla and the Noble Bob Douglas drilling ship are 100 nautical miles off Raglan.