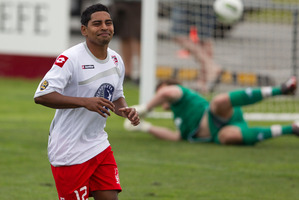 In one of the biggest transfers in ASB Premiership history, Waitakere United striker Roy Krishna is set to move to arch rivals Auckland City.
The switch across town of the prolific Fijian international threatens to be a game changer for both clubs and provides a massive boost for Auckland City's FIFA Club World Cup campaign in December.
They have acquitted themselves well in the last two tournaments, with narrow losses (0-2 and 0-1) to J-League champions Kashiwa Reysol and Sanfreece Hiroshima.
However, for all their possession based football and discipline in defence, they have lacked a definite cutting edge up front to exploit the few chances they have been able to create. Krishna, with his pace and finishing ability could provide the point of difference.
The timing could not be better for the Oceania champions, as this year's Club World Cup is seen as their best opportunity since 2009 to make an impact on the world stage. The tournament will be staged in Morocco, which means that Auckland's first hurdle is Morocco's champions Raja Casablanca - an accomplished side but not thought to be at the same level as the J-League champions.
Conversely, Krishna's departure is a huge blow for Waitakere United and their new coaching duo of Paul Temple and Brian Shelley.
Since his arrival at Waitakere in 2008, Krishna has been one of the mainstays of the West Auckland side, scoring 55 goals in 75 ASB Premiership appearances and 16 goals in 27 OFC Champions League games. He struggled at times when he first arrived in New Zealand - especially with the physical side of the game - but has adapted quickly is the second highest scorer in Waitakere United history, behind Allan Pearce. Krishna, who hails from the small town of Lambasa in Fiji, is one of the biggest sporting stars in the country
The 26-year-old has taken his game to a new level in the last two seasons and it has been noticed - he was offered an extended six week trial with English Championship side Derby County earlier this year, though eventually had to turn it down due to visa issues. He previously had a brief trial at the Phoenix soon after he arrived in New Zealand and there has also been interest in the past from PSV Eindhoven and now defunct A-League club North Queensland Fury.
On the international stage, Krishna has scored an impressive 14 goals for Fiji in 22 games, including a brace in Fiji's 2-0 win over the All Whites in 2009, the infamous game most memorable for Glen Moss' red card and subsequent three match ban, which miss out on game time at the 2010 World Cup.
Krishna was also a standout for Waitakere United at the 2008 Fifa Club World Cup, judged the most valuable player in their 2-1 loss to Adelaide United.