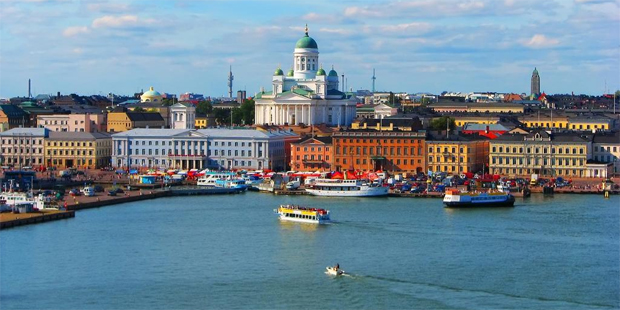 When Helsinki becomes World Design Capital tomorrow, there will be cause to celebrate, particularly along Esplanadi, the long tree-lined avenue that runs from the old Swedish harbour to the Swedish Theatre.
As in many other countries that struggled hard to be free of more powerful neighbours, the buildings and streets in the Finnish capital are laden with symbolism. Helsinki was first established as a Swedish trading port, before passing in 1809 to Russia. The city has in fact been Finnish for only 94 years.
It's apt, then, that the crown of Design Capital passes from Seoul to Helsinki next year, for design was one of the ways in which Finland established itself as a separate entity.
While Esplanadi is lined with European-looking shops, hotels and restaurants, the names of these stores are uniquely Finnish.
Marimekko, known for its fabrics, was founded here in 1951. Aarikka, which produces distinctive wooden jewellery, started only three years later. Iittala, the glassware and household store nearby, came to the world's attention in 1936 when it created the Aalto vase for designer Alvar Aalto. Look into its brightly lit windows today and you can see that this undulating design classic is still being produced.
Across the road at Artek you can find the company that Aalto and his wife set up in 1935 to manufacture more of his revolutionary designs, including the Aalto stool and Aalto chair, created by bending plywood.
Perhaps more than any other single person it was Alvar Aalto who pioneered design here. His radical, intelligent approach to an object's function predicated its form. He also insisted on designing not just the exterior and interior of a building but every object within it.
A few doors down I found the Savoy Restaurant, on top of a 1930s multipurpose block known as "The Industrial Palace". Aalto designed this austere, functionalist rooftop dining room. It was one of the first projects undertaken by his Artek studio and it resulted in the Aalto lamp, another design classic which rather resembles the top half of a cocktail shaker.
I'd uncovered all this by walking just few hundred yards along Esplanadi. In the streets beyond, I found row upon row of design boutiques from Hanna Saren's - whose handbags and clogs were featured in Sex and the City - to the label Ivana Helsinki, which in 2007 became the first Finnish company to participate in Paris fashion week.
There are restaurants too, such as Rafla and Gastone, that double as art galleries - and museums including MUU and the Design Museum that double as shops. Locals have been calling this the Design District since 2005 - and it's certainly a powerhouse of visual creativity.
The Klaus K is a case in point. It is a hotel that doubles as a museum, located on the edge of Esplanadi in what was, for 1913, a remarkably modern-looking building. The architect, Lars Sonck, went against the architectural rationalism of the times by taking his inspiration from the stone building traditions of Finland's medieval past. In doing so he helped to create the National Romantic movement.
Just as the Czechs and Hungarians embraced Art Nouveau to distinguish themselves from the Habsburg Empire, so the Finns adopted National Romanticism in search of a mythic national past that would exorcise the influences of both Sweden and Russia. In 1938 a hotel was opened in Sonck's building, which was later named after one of Finland's great medieval heroes, Klaus Kurki. Inside, the decor takes its inspiration from the Kalevala, Finland's national epic.
Sonck, like Saarinen and Aalto after him, did a lot to make the new Finland look distinctive. He designed a home for Jean Sibelius, the great Finnish composer who accomplished in music what these architects were doing in stone and what artists like Gallen-Kallela were achieving in paint. In Helsinki, there has never been a period of artistic fervour to match the early years of the 20th century.
At Hotel Kamp, these remarkable men - Finnish patriots and heavy drinkers all - used to meet up as the Symposion group. A painting in the hotel shows Gallen-Kallela, the composer Oskar Merikanto, the conductor Robert Kajanus and Jean Sibelius sitting boozily at a table.
On one occasion, after a heavy evening of drinking, it is said that Sibelius realised he was due to conduct in Sweden. He lurched out into the hotel lobby without uttering a word.
When he returned to Helsinki several days later he found his Symposion friends still at Hotel Kamp. As Sibelius dropped heavily into his chair, Gallen-Kallela looked up.
"For goodness sake, Jean. Make up your mind. Are you coming or going?"
- INDEPENDENT