Wellington line up big-hitting Jamaican for HRV Cup matches against Otago and ND.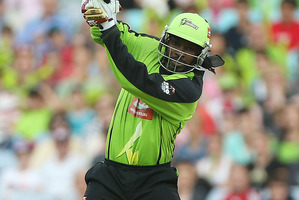 Wellington Cricket is believed to be close to brokering a deal which would see West Indian super-bat Chris Gayle turning out in two T20 games in the capital this weekend.
The well-travelled Gayle, currently plying his trade for the Sydney Thunder in the Big Bash League, is in talks to play in the Firebirds' final two games of the regular season.
With his commitments with the bottom-of-the-table Thunder effectively finishing after tonight's match against the Melbourne Stars, Wellington are hopeful of getting the big-hitting Jamaican across for their HRV Cup showdown against top-of-the-table Otago on Friday, and Sunday's meeting with Northern Districts.
Both fixtures are at the Basin Reserve and will be crucial to determining positions heading into the finals.
The addition of Gayle will further strengthen the powerful Wellington batting line-up, which includes a resurgent Jesse Ryder.
Wellington Cricket boss Peter Clinton could not be contacted last night.
It is not the first time Gayle has been linked with a New Zealand team this season.
Central Districts were rumoured to be chasing the international star and a Taranaki businessman was believed to be willing to stump up $50,000, in conjunction with Venture Taranaki, to help bring Gayle to Pukekura Park - a ground whose postage-stamp dimensions would make it near-impossible to contain the big hitter.
Central Districts chief executive Hugh Henderson confirmed the Stags had been in talks with Gayle but details could not be worked through.
"It was in the pipeline, we did speak to him but it just didn't pan out," said Henderson.
The Wellington deal is believed to be more complex, contingent on gate-takings, but potentially more lucrative than Central Districts' offer.
Gayle is the first player to score a century in an international T20 match, and has a record seven centuries in the shortened format.
He has been in uncharacteristically poor form for the Thunder in this edition of the BBL, last week earning the ire of veteran Brad Haddin, who told the import to start earning his monster pay cheque.
His inclusion in the Wellington team would, however, prove a big drawcard for fans starved of high-profile imports this year.
Should Wellington go on to win the New Zealand domestic competition, Gayle will then be eligible to play for the Firebirds in the highly lucrative Champions League, although his loyalties would first lie with his Indian Premier League team, Royal Challengers Bangalore, and Jamaica, should either team qualify.
Only the winning HRV Cup team qualifies for the Champions League, and even then it is for the preliminary stages only. Auckland last year made it out of the preliminary rounds and into the Champions League proper before being knocked out at the group stages.